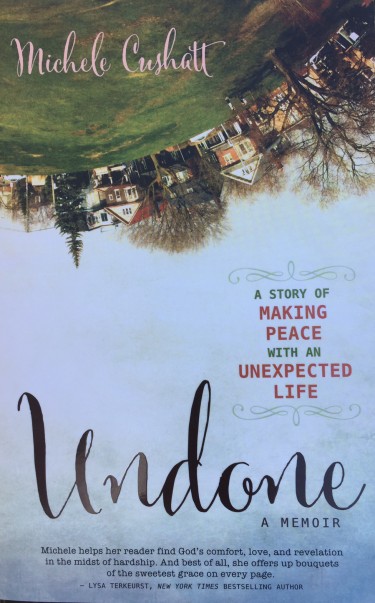 The picture on the cover of this book makes my brain hurt.  Look at it!  Ouch!
Wait a minute!  Life does the same thing! Life never follows the path I marked out for it.  Life often leaves me standing stripped of the expectations and longings of my heart.  Life is often turned upside down. It makes my head hurt.
In those moments its so easy to slide into the negative depths of self pity.  I can quickly find myself staring into the abyss of depression, clinging with all my strength to threads of hope anchored in solid ground.
Undone is filled with threads of hope.  Michele never leaves you feeling like a weakling in the presence of a superhero.  She takes you by the hand as a fellow weakling and points you to the source of strength that sustains her.
My sweet friend and co-worker Michele Cushatt did not ask me to promote her book.  Nor am I promoting Michele's book as a favor, or as an act of sympathy.
When I read her book my soul, like a dry sponge, soaked up the the encouragement, hope and peace that flowed from Michele's story.  Anyone who has experienced the pain of life, love and loss will benefit from reading "Undone."
A few weeks ago I shared a link to Michele's  blog post "For Want of Beautiful". In that post she detailed her struggle with self worth as she experienced the powerful side affects of her cancer treatments. This week I am encouraging you to buy her book and read her whole story.
Not for Michele! but for YOU! 
When something this good comes my way, I have no option but to share it with the people I care about.
So there it is. Please get her book today!
Don't stare at the cover too long!  It hurts your brain!  Instead, open the book and be blessed by some one who's life has been Undone, but who's faith, beauty and love is still intact.