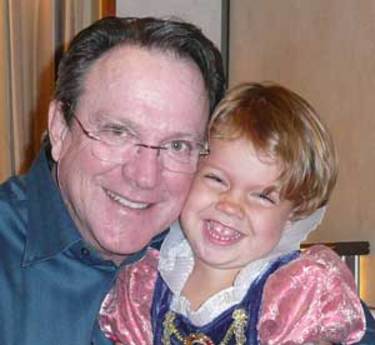 Her name is Jadyn. She is a prayer warrior and she spreads joy everywhere she goes.
She won't let you eat a peanut unless you pray. One day I had to stop her from choking the dog because he started gobbling his food without praying. (Please don't feel badly toward her. She was choking him in Christian love) She can't say "Amen." The closest she can come is "All the men." So that's how she closes every prayer.
When I am sick or feeling down, she is my medicine. One very difficult day we were headed for the doctor. I said nothing to her about my condition. Her little voice drifted from the back seat. "I think we need to pray for Grandpa," She said. And then she prayed.
"Dear God. Please don't let grandpa be afraid. Help him to think of bunnies and rainbows and happy faces. Help him to think of Jesus. But please don't let him be afraid. All the men." You think he heard her?
Don't be afraid, I've redeemed you.
I've called your name. You're mine
When you're in over your head, I"ll be there with you.
When you're in rough waters, you will not go down.
When you're between a rock and a hard place, it won't be a dead end.
Because I am God, your personal God,
The Holy of Israel, your Savior.
I paid a huge price for you:
All of Egypt, with rich and Cush and Seba thrown in!
That's how much you mean to me!
That's how much I love you!
I'd sell the whole world to get you back, trade creation just for you.
So don't be afraid. I'm with you.
Isaiah 43 The Message