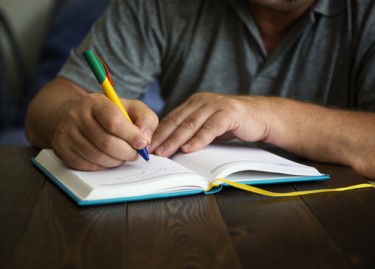 Today, three days after Christmas, I find myself reflecting on what has happened in 2015 and considering changes I would like to see in 2016.
Here is a simple principle guaranteed to help turn your 2015 ideas into action, and your resolutions and dreams into reality.  
Write Your Thoughts Down
Wait, Ken! I was expecting something profound! What is so powerful about writing down my thoughts? Here are three reasons you should grab a pencil this season and write those thoughts down!
1. The written word lasts longer than a thought!
With my ADHD brain, a snowflake in a skillet lasts longer than a thought. If I don't write my thoughts down, even my best ideas evaporate like a morning mist. Most people I talk with can remember an important idea that got away because they didn't write it down.
Every year dozens of people tell me they have been thinking about coming to our SCORRE™ Conference for speakers. I don't expect to see them until they write it down along with the date and place it will be held. The ones who write it down usually come. The ones who just think about it, keep thinking about it.
      2. The written word is read by others!
When possible, show what you have written to friend, family member, and to any people who follow you. Publish your resolutions and ideas on social media.
Why? Because sharing your resolutions, and thoughts with others is a powerful motivation for you to follow through. If you are serious about an idea or goal, write it so that it will be shared with others.
My book Fully Alive challenges people to live to their fullest potential physically, mentally, socially and spiritually. It has changed the lives of thousands of people. It may be my life that has been most profoundly changed because there is a written record of my challenges and I have a responsibility to follow through on the advice I gave to others.
I wrote a post Dead Last – Fully Alive that demonstrated the power of this principle. After finishing the 25 mile bicycling segment of a triathlon, I jumped off my bike to run the final 6.5 mile leg of the race. Within a block, I fell to the ground in pain.
I wanted to quit. But I couldn't.
I had posted my goals on facebook and other social media outlets. Tens of thousands of friends who followed me were cheering for me. I had a responsibility to them.
Many of them had read my advice about not giving up. The word was out! I couldn't quit.
It took me more than two hours to finish the run. The details can be found in the blog post. The important point is this: I finished dead last, but I finished. By the time I finished everyone was leaving. Workers were disassembling the finish line. But I finished because I had written my goals down and other people had seen those goals. That is powerful motivation.
      3.  The written word keeps staring back at you.
I can't remember any dream or idea that I wrote down and consistently reviewed that didn't become a reality.
When I was twenty I wrote down the impossible dream of owning an airplane. Soon my mind was flooded with ideas about the steps I would have to take to make that possible. Every time a goal or idea came to my mind, I wrote it down. Within a few years I was flying my family and myself all over the United States to speak at my events.
Yesterday I stepped on the scale and realized that over the holidays I have been a very naughty boy.
I wrote down these words… 185 by June 1st. It is a very reasonable goal that could quickly be forgotten…
But I have written it down! I can't forget it.
And now you have read it! And I KNOW some of you are not going to let me forget it.
I am posting a little sign in my office that says, "185!"
Those words will stare at me for the next 6 months. Reminding me every day of my commitment.
Where would we be if God had not written a record of his life and his promises? In 1st John look how God reminds us of one of the most important single truths in the universe.
"This is the record" (a written testimony)
"Whoever has the Son has life; whoever does not have the Son of God does not have life".
Then he tells us why he wrote this simple truth down.
"I write these things to you who believe in the name of the Son of God so that you may know that you have eternal life."
Evidently the creator knew how easily we forget. If God chose to write even the most basic and simple things down for us, perhaps we should do it for ourselves.
I've publicly written one of my thoughts for the new year (185).  Do you have a dream, idea or resolution you would share with me?  Write it down in the comments. [reminder]
Oh and by the way…
Happy New Year!
________________________________________________________________
This post was inspired by a talk given by my friend Craig Piefer, lead pastor at Valley fellowship Church, Beuna Vista Colorado.