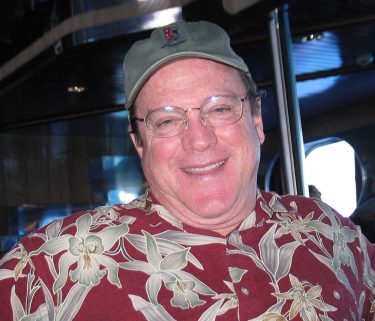 At age 65 and almost 250 pounds, I was desperate to do something to regain my health.
My first attempts at exercise were sporadic and it took me awhile to learn what healthy eating was all about. I didn't have the perfect plan but it was gratifying to be headed in the right direction.
The goal of being fully alive physically is daunting and sometimes seems impossible. There are times when in spite of all your resolve, weeks and months pass without progress.
It's as though you stand gazing at a mountain peak, longing to be at the summit. But without some intermediate goals, your friends may find you standing in the same place years later still dreaming of being at the top.
In their book Younger Next Year Crowley and Lodge tell us how the captain of a sailing ship kept moving ahead even when his sailing ship was dead in the water because the wind had died.
He ordered his crew to load a light anchor called a kedge into a longboat and row half a mile or so out in front of the ship. The longboat sailors set the anchor there, and everyone aboard ship pulled on the anchor line until the ship moved that half mile. Then they moved the kedge another half-mile out and pull on the line again. It was slow progress that carried a whiff of desperation, but it was progress and much more desirable then being dead in the water. It kept them motivated and moving forward until the wind picked up.
Five years ago, my form of kedging was signing up to compete in a triathlon. That may seem like an unlikely and desperate goal for an out-of-shape, 65 year old fossil, but I learned that if I expected to finish that race I would have to set bite size intermediate goals small enough to put on the calendar and accomplish.
If I wanted to be at the top of the mountain I would first have to step over the branch in front of me. I could do that! Then I would have to climb the ridge. I could do that! Next I'd have to cross the stream on the other side of the ridge. I could do that! With that kind of commitment, one day I would stand at the top and see a hundred miles in every direction.
I finished second (in my age division) in a race that required a 200 yard swim, 11 mile bike ride and a two mile run.  You can read the entire account in my book Fully Alive but I will tell you now, that accomplishment was the result of hundreds of short (bite size) training workouts that finally gave me the strength and endurance to finish the race.
In a few weeks I will be 70. But this 70 year old could whoop that 65 year old fossil any day of the week.
Whether you're working toward living fully alive physically, mentally, socially, or spiritually, short-term goals and immediate action steps are essential if you expect any progress. It isn't enough just to make a plan; you have to work the plan. That means setting bite size goals that will eventually lead to the ultimate goal.
What struggles have you faced trying to reach your goals?
What strategies have helped you? [reminder]
My book Fully Alive and the DVD of the motion picture has changed many lives.  Click here to get the book and here to get the DVD.