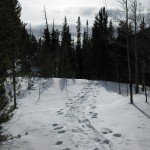 We spent Christmas at 9000 feet in the Colorado Rockies.  One morning I got up early and started up a trail that leads to the three beautiful Harvard lakes, about 1000 ft up the mountain. In the summer this hike takes me about an hour, but in the summer there is no snow.  This year had dumped an enormous amount of the white stuff on the trail and I realized that without snowshoes there was probably no possibility of making it to the lakes.  Then a wonderful surprise. Someone with snowshoes had blazed the trail ahead of me.  Their trip had been several days before and the melting and refreezing of the their tracks in the snow had created a crust that I could walk on.  My face stung with the cold and my lungs ached, but my heart soared as I made my way toward the top.  Occasionally the crust would break and I would find myself floundering hip deep in snow.  It only took a few steps like that to leave me weak and gasping for breath.  Just when I was about to give up, my feet would find purchase on the trail made by someone else and I continued on.  It took me about an hour and a half to finally see the first lake.  There the traiblazers tracks stopped and so did my progress.  I got as close as I could to the beautiful slide that exists just above the lake and snapped this picture.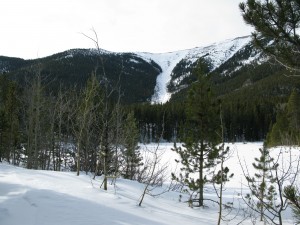 Standing waist deep in snow, I prayed a very sincere prayer of thanks for the trailblazer who made this hike possible.

As 2009 slips into history, I am reminded that I am able to enjoy many of the benefits of my life today only because of some "trailblazers" who went before me.  People who defined a path that I could follow.  A path made of wisdom and experience.  A path they intentionally set me upon knowing that their efforts would enable me to go farther then I ever could on my own. I want to honor those trailblazers today.
Thank you to Francis W Peterson, my high school  English teacher, who had a choice to suspend me or encourage me.  She chose to say words that would define the path I would take with my life.  "Kenneth Alpheus Davis," she said peering into my eyes. "God has given you a gift.  I want you to try out for speech competition, humorous interpretation.  AND stop using your gift to destroy my class."
Thank you to Robert (Bob) Thompson,  Oak Hills College professor, who told me to stop wasting time and start living up to my God given potential.
These are people who believed in me and believed that God had designed me for a purpose.  They were my trailblazers.  They not only helped give my life direction they took time to set me straight when I strayed from the course.  They set an example that allowed me to impact peoples lives.
Who are the trailblazers in your life?  I would love to hear about them.