Hearts at Home
It was a sound like children running through the hall of a mansion jumping up to brush the chandeliers as they ran. It was the sound of 1600 women laughing. It was a great sound. Moms from all across the country gathered in Grand Rapids Michigan to refresh and be encouraged spiritually and emotionally and to party together, AND THEY LET ME IN! It's called Hearts at Home and it is a hoot.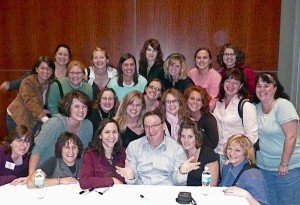 I took this picture so I could show my wife Diane how I am treated away from home. She said, "They don't really know you." If you know someone who needs a break from momming??? Some one who needs to laugh and hang with a couple thousand women and one crazy old man, I'll be performing for Hearts at Home again in Rochester Minnesota. November 8th. Come and brush the chandeliers.
Did you like this post?