A FREE Philip Yancey book.  Today ONLY!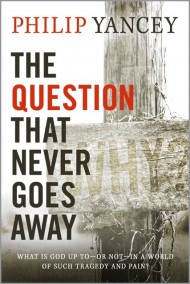 I don't endorse many books, nor do I usually post a blog on Wednesday.
But my friend, Philip Yancey, has just written a powerful book based on his 2012 visits to three places of great suffering:  In each place he was asked to speak and bring words of comfort and hope. You can down load his book, and read it today for FREE.
Philip visited Japan after the devastating tsunami.
He visited Sarajevo after a war that tore a country and it's family apart.
He spoke to the people of Newtown, CT after the unthinkable school shooting there.
The title of his new book is "The Question That Never Goes Away"  
It is a follow up to one of his all time best sellers.  "Where Is God When It Hurts."   Philip's books and his friendship over the years have changed my life.
Today (Sept 11) you can get a FREE advance Kindle version of "The Question that Never Goes Away."
Here's how you get it.  
Go to here to Amazon and order the kindle version before Midnight tonight, Sept 11.  That's all there is to it.  The free offer expires at midnight Sept 11th. 
Zondervan will release the hard cover of Philips book in December, but so many disasters were happening around the world, they didn't want to wait for the hard copy.  Get your free copy today and let me know how you enjoyed the book.
If you don't enjoy the book there is a money back guarantee! (-;