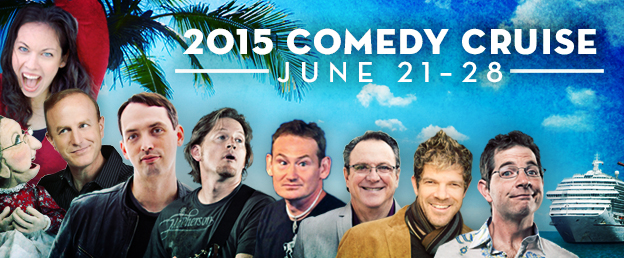 Over the years I have performed on scores of cruises.  Since I have been inviting my friends to join me on a comedy cruise this summer, I thought it might be wise to share with you five activities that are discouraged on cruise ships…
1. Hunting Sea Gulls
I am proud of the fact that I am a hunter.  I am even more proud of the fact that I hunt with a bow and arrow.  I learned quickly that cruise personnel and passengers frown on shooting seagulls from the railing of the ship.  If you plan on cruising with us this summer it will be important that you leave your bow and your shotgun at home.
2. Flying Kites
I also quickly learned that the captain of the ship discourages people from flying kites off the back of the ship.  The maneuvering kites appear on a ship's radar and look like fighter planes attacking the ship.  There is a little jail on the ship especially for people who fly kites.
3. Water Skiing
Water skiing from the back of the boat is also a no-no.  The crew, the officers, and even the passengers get very testy when the ship is forced to turn around and scoop you up when you fall.
4. Losing Weight
It is an international crime to lose weight on a ship.  Food is available at all hours and every place you look.  The clinking of silverware can keep you awake at night, so can the smoked salmon topped with whipped cream and chocolate.  The quick trip to the bathroom after eating that little delicacy is known as the "Salmon Run."
5. Excessive Frowning
It is also forbidden to be on a cruise with a frown on your face.  The world is too full of up-tight, angry people who have forgotten how to have fun.  That's why we are doing our comedy cruise.  We love being around people who love to laugh.  It is also one of the reasons I am inviting YOU!  The Bible says that laughter is like good medicine.  We are serving up a special dose of that medicine June 21st -27th, 2015.
For more information click here and register today.
Leave your weapons, water skis, kites, tight pants and frown at home.  I can't wait to meet you and see your smile.
---
Watch this video to see me and my comedian friends answer some of the crazy questions people actually ask about cruising.
[youtube id="R6PCBydoteQ"]