Mom's Night Out definitely goes down as one of the top three comedies I have ever seen.  This hilarious movie was directed by The Erwin Brothers who also filmed and directed my movie Fully Alive.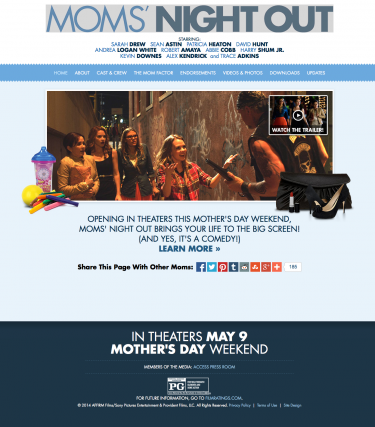 Provident is the same company that made the family friendly films, Courageous and Fireproof which were good movies. . .  but this movie tops them all.  Here's Why!

1.  It is outrageously funny.
I am very critical of poor attempts at humor.  The night we attended Moms Night Out, the theater was filled with women and men who literally convulsed in laughter throughout the movie.  Mom's Night Out had me laughing so hard I embarrassed my wife.  I watched a child of about seven wipe tears of laughter from his eyes. That's good comedy!
2.  The acting is superb.
The best storyline in the world crashes in flames with bad acting.   Patricia Heaton,  Sarah Drew, Trace Atkins, and a superb cast of characters never even tempt you to think of the acting.  They just sweep you up in a chaotic experience that is a reality for that strain of humanity called parents.
3.  The story carries a great message.
Unlike so many faith based films that use snippets of preachy dialog to convey the message, the makers of this movie must have assumed that an intelligent audience would get it.  And they did!  I even got it!  I teared up during this movie.  No one knew it because I covered it by blowing my nose.
I guarantee every parent and every person who had a parent or knows a parent will come away from this movie with a new respect for anyone who fulfills that job description.  And a lot of moms and dad's will walk away encouraged about their role as parents.
4.  The film has a happy ending.
I am certain this will outrage some critics, but I am sick of going to movies that end with 200 bodies strewn across the landscape while evil walks free to return in a sequel with just as much hopelessness.  True, not all of life on this earth has a happy ending, and the movie makes that clear. But every once in a while we need to be reminded that joy can be found even in the midst of chaos and there is hope. Mom's Night Out delivers that message with laughter, tears and first class production.
If you like laughter and encouragement and great movies, here are three things you can do.
1. Check out the trailer below – multiply by 100 and that's the movie.
2. Call a herd of your parent friends and plan to see the movie together.
3. If you don't like the film call HPA  "Humorless People Anonymous" at this number…..   000 000 0011  It's not a working number but it will make you feel better.
I just laughed out loud again watching the taser scene in this trailer.
[youtube id="Leb6Vnhbp1A"]