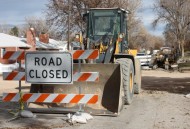 I love Franklin TN. I love the people. I love the beautiful country homes. I love the history.
Evidently a lot of people love Franklin, because the population has grown exponentially. The city planners realized this so they planned to do construction on all the roads leading to and from Franklin. Someone in those planning meetings then came up with an idea,
"Let's do the all the construction at once! That way we can bring traffic to a complete standstill."
And so, this spring, every key intersection in the beautiful city of Franklin TN was filled with construction equipment and workers wearing colorful costumes, waving flags and holding signs that said, STOP!
You could still get through Franklin if you started at a young age and had a trunk full of food and survival equipment, but it required huge supplies of another commodity that is often in short supply….. patience!
The construction is almost completed now and the new roads are smooth and functional, but there are still people suffering from  PTHD (post traumatic honking disorder) There were 6 important lessons I learned while the city was on "lock-down." I hope you will find them helpful.
If you have to get to the airport, leave at least 2 days early.
Understand that the word "detour" means "shortest route to the next road closure."
Patience is a virtue. If you don't have it, the horn is not a viable option.
Franklin is a beautiful city, if you survived the spring construction, you might live long enough to see it.
Hand signals using a single finger should be avoided. They are contagious. Use the horn instead.
Mack and Hatcher are two greek words that mean "You can't get there from here."
I apologize to the city of Franklin, and the person who decided to do all the construction at once, for all the bad things I thought about you during construction. I can now get to church without starting out Saturday night.
You done good!  
Thank you!
Now lets talk about the construction on 431 north out of Franklin.
I am 67.
I am at McDonald's on Highway 96 and would love to get to Mack Hatcher.
Could you hurry?
Tell me your construction story?
Do you have any extra patience?
I know someone who could use some.