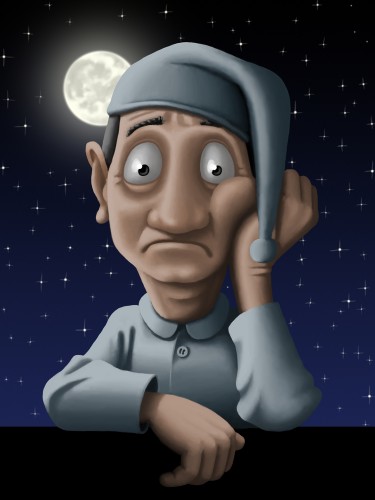 Do you have trouble sleeping?  At one time I suffered from insomnia.  I wrote about it and my readers comments helped me develop habits that now allow me to get a good nights sleep almost every night.
Relax for 30 minutes before you go to bed.
Avoid bright lights.
Develop pre-bedtime habits that your brain will associate with sleep.
All these were helpful. But one suggestion in particular was amazingly successful.  I dare you to try it. 
I used to sleep like a baby;
Accosted by nightmares
Continually distressed by nature's call
Up crying half the night
As a result, the bags under my eyes were too big to fit in the overhead compartment on an airliner.
I tried a memory foam mattress. It didn't help me sleep, but I did remember a pizza I ate when I was 13.  And when I got up the next morning I could see my own personal fossil right there in the mattress.
I tried a sleep number bed. It didn't work.  I laid awake all night doing the math.  My sleep number is 90. That's the number of seconds I actually slept each night.
My flesh was willing but my mind was weak.  My body would beg, "Please let's go to sleep." My mind argued,  "Nope, tonight we're going to review all your sins and plan the rest of your life."
Finally, I would manage to fall asleep about the same time my bladder would wake up.  It was a lose-lose proposition.
Here are some of my personal suggestions for sleeping well.
Buy a pacifier. It seems to work for my grandchildren.
Have someone read you a story: preferably someone who wants to stay awake.
Listen to the recording of an old sermon. I've seen that put people to sleep.
Here's a better one.
Pray!
I have learned that if I start to pray, it isn't long until I go out like a light.  At first I felt very guilty about this.  I didn't know if it was the peace of the Lord or the hand of the devil who knocked me out.  But I have discovered there is a calm that takes over when we talk to God.  In His presence the stress of the day drifts away and so do you.
Actually prayer is much more than just a sleep aid. Here's what the Bible says.
"Pray without ceasing, in everything give thanks; for this is the will of God in Christ Jesus for you."  1Thessalonians 5:17-18
Try it!  It really works.  Is there a better place to go to sleep, or a better place to start your day than in the presence of God?
What are your secrets to getting a good nights sleep ?
I also wonder if I am the only one who falls asleep praying?
[reminder]
————————————————————————————————–
Start your day with a smile and a challenge.  Get "Lighten Up"  90 lighthearted devotionals to brighten your day here. This post was adapted from one of those devotionals.