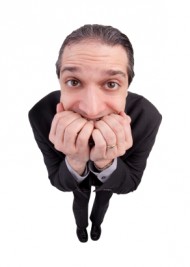 The morning of 9/12 was marked by a deep sorrow.  So many innocent lives had been lost on 9/11, the day before.  But for many that day also marked another tragedy.  It was a day millions of people became paralyzed………. by fear.
The most outward demonstration of this fear was the silence in the skies.  All flights in the United States had been suspended.  Although I appreciated the attempts of our government to keep us safe, I was dismayed at the irrational fear of flying, or shopping, or being in a public place.  The enemy's greatest victory that day was the resulting plague of fear that spread across the country in response to their horrible actions.
Fear is the ultimate weapon of terrorism.
If we refuse to live in fear, terrorism fails.    Fear paralyzes more severely that any spinal cord injury you can imagine.  Fear, more than any other obstacle, keeps people from living fully alive.  For me, not flying on 9/12 because a terrorist might be on the plane was the equivilant of not going outside because lightning might hit me.  Out of defiance, I wanted to get on a plane and fly to anywhere for no reason at all. Then get on another one and fly to another destination.  Don't get me wrong.  In the past I have lived in fear…… and I still occasionally allow it's deadly shadow to affect my life, but as a part of my new commitment to live fully alive, I am determined not to allow fear to rule my life.
We don't need a catastrophe like 9/11 to have us cowering in fear.   We have our own terrorists that plague our lives.  
Political upheaval in the world?
Personal failure?
Health issues?
Family conflict?
Crime?
Emotional distress?
Personal loss?
Job insecurity?
Name your own terrorist _______________________?
Paul said, "For God hath not given us the spirit of fear; but of power, and of love, and of a sound mind."  (2Timothy 1:7)  He also said, In Romans  8:38- 39 "For I am persuaded, that neither death, nor life, nor angels, nor principalities, nor powers, nor things present, nor things to come, Nor height, nor depth, nor any other creature, shall be able to separate us from the love of God, which is in Christ Jesus our Lord.
Of course we are not supposed to take stupid risks, but Paul is right. NO government, NO person, NO failure, NO difficulty….. NOTHING in all the universe …..can separate us from the most important thing of all, the Love of Christ.     We have nothing to fear.
What can we learn from the Significance of 9/12?
We can learn that fear KILLS the ability to live fully alive.
We can refuse to be "terror-fied" (sic)
We can choose to "LIVE!"
I am instructing my team to make a t shirt that proclaims.  Fear Free Zone.  I plan to wear it……  and live it.
What fears have threatened to paralyze you?
What has been helpful in conquering those fears?
I look forward to your comments.