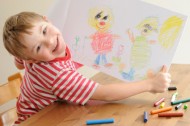 I had been traveling relentlessly and had just spent a sleepless night in a hotel room with an air conditioner that sounded like a pterodactyl with an abscessed tooth.  Now I was waiting to speak at an awards ceremony for KCARC, a wonderful caring organization dedicated to serving individuals with disabilities. A delayed flight had caused me to walk into the room just as the ceremony was beginning and I was in a nasty mood. 
About 100 in the room of 400 were affected with some form of mental or physical disability.  There was constant movement in the room as many were assisted with frequent trips to the restroom. Involuntary moans and vocal sounds echoed throughout the audience.  I grumbled inwardly thinking how all this commotion would disrupt my "important talk."  I also noticed the lighting was poor and wondered how that would affect my "performance."
As I ruminated on these things, the presenters called seven year old Andrew Roach to the platform.
And what was this beautiful little boy's achievement? 
Over the past year, he'd learned to sit in his seat long enough to complete a task and he had learned to count to fifty.  As Andrew clutched his award, the look of pride on face of his parents was luminous.
Maybe I didn't need as much light as I thought I would.
Terry Molrand received the next award for Resident of the year.  This young man's  body was bent from Cerebral Palsy.  Although he was seated less than fifteen feet from the platform it took him nearly a minute to get there. He used a walking stick and it seemed that each step required excruciating effort.  Yet I seemed to be the only one in the room who noticed.  Terry turned to face the audience with a beaming smile that lit up the room.
I stopped thinking about lighting all together.
Terry's smile not only lit the room it cut through the selfish and inconsiderate rumbling in my soul. After receiving his award and reveling in a barrage of flash pictures, Terry whispered something to the presenter who then announced that Terry wanted to say a few words. With a face that could barely contain his joy, Terry spoke in a strong confident voice.
"I want to thank you for this award," he said, "And I want to thank God for another day."
The audience rose in a thunderous ovation.  I was on my feet, applauding wildly, tears streaming down my face.
Mr Rosenburg received the next award. He had run a clothing shop in Vincennes, Indiana for forty six years and was receiving a plaque for donating a building to KCARC. Marshall his disabled adult son accompanied him to the platform.  His voice trembling with emotion, Mr Rosenburg said that shortly after becoming a resident at KCARC his son had blessed him with two simple but profound words.  "I am happy."
I began to wonder who was disabled.
Just before it was my turn to speak, I leaned over to my host and whispered, "No message I could deliver would be more inspirational than what I have just heard."  I had allowed a delayed flight to ruin my day while a this group celebrated a little boy's ability to sit quietly and complete a task.  I have lamented over a missed golf game, while Terry thanks God for another day. I was the one disabled by a lousy attitude. 
The next morning, as I awoke, I acted on the lesson I'd learned from the three MEN who had received awards the night before.  The first words from my mouth were these……..
"Thank you God for another day.  I am happy!"
Tell me your story.  I look forward to your comments.
This post adapted from, A story by Ken Davis in his book "Lighten Up"  Zondervan