Every great leader that walked the face of the earth practiced two essential skills. Whether you lead a major corporation, are an author, a pastor, a teacher or a politician, it is essential that you develop both these skills. They are like oars in a boat. If you use both of them you can
get somewhere. If you use only one you will go in circles.
These are the two essential skills of a great leader:
1. The ability to formulate a crystal clear objective.
2. The ability to communicate that objective in an engaging and persuasive manner.
These are also the specific skills we teach at our Dynamic Communicators Workshops. Leaders from around the world and from all walks of life have attended our workshop and their overwhelming response is that it transformed their effectiveness as a communicator and leader.
Here are two responses from recent students.
---
I attended the DCW in May of this year, and just finished speaking to 50 missionary wives at a retreat in Arkansas. What a difference the DCW made as I prepared my lessons and delivered them! Preparing using the S.C.O.R.R.E. system made it easy to keep my points focused on exactly what I wanted to say, and I had the confidence to step out from behind the podium to make the presentation much more interesting using humor and gestures that I would never have been able to do before. All I can say about DCW is — GO! It will make a difference in your speaking that you will not be able to believe!
I just wanted to share my good news with you. I received a contract from a publisher for my book. I am going to sign the contract and send it back on Monday. I just wanted to thank you for the help you gave me with the conferences. That was the beginning of the steps on the road that God has led me down.
---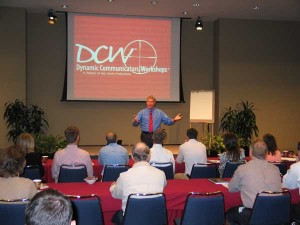 Join us at our next Dynamic Communications Workshsop Glorietta Conference Center in Glorieta, NM October 19 – 22 Click here to learn more see more pictures and register.