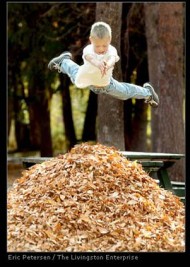 Yesterday on Facebook I invited my friends to send me pictures that to them represented a moment of living "fully alive."a  I was amazed at what they sent.  If you go here, you can see some of their pictures.
In my radio interviews for the release of "Fully Alive" I was stunned by the stories of courageous radio hosts who were willing to share about their journey back to life.  I love people like this who are transparent and honest.  The encouragement from their lives is so much more powerful than those who pretend their lives are perfect.  So today I have a question for you.  
I'm looking for honest answers!!!!  It doesn't have to sound spiritual to be meaningful. It might be as simple as a dive into a pile of leaves. This is not a trick question so fire away.
What moment in your life stands out as a time when you felt the most fully alive?  Leave your comment and If you have a picture post it here on my facebook page  and let me know in your comment you have done so.  To see the other wonderful photos click on the word photos under the pic of little girl in bathtub.  Scroll down to the second album, "Pictures of Ken Davis" and enjoy!   These stories and photos are a major inspiration to me and those who read this blog.
My next post will be one such story from a 70 year old princess with a 17 year old heart.