As you may know by now, I just released my latest book "Fully Alive." I've been blown away by the positive response, thank you!
I don't look at this as a book launch… I look at it as the start of a movement… a Fully Alive Movement that is going to radically change the lives of many in a mighty way.
That brings me to the point of this post…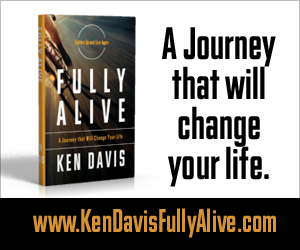 We've decided to create a Support Team, people like you (I hope) who agree with the Fully Alive message and who want to help us get the word out to many more. We're going to open it up for everyone to sign up but we're only going to pick 150 people (at random) to be a part of this inner circle.
As a Fully Alive Support Team Member you'll get:
A complimentary digital review copy of the book (in case you haven't read it yet).
Exclusive access to the "Signs of Life" video (online or DVD) – the message that started it all!
Access to be on a free private teleseminar with Ken.
Access to the FULLY ALIVE Facebook Group where support team members can interact with Ken and our internal team.
In exchange, we just ask that you be willing to blog about the book, promote it on social media, and help spread the word in any other creative ways that you can.  Your friends, your small group, pastor, sunday school, co-workers…everyone will benefit from this message of living Fully Alive.
If you're up for it, I'd be grateful.
Simply go to https://myresponse.wufoo.com/forms/fully-alive-support-team/ to sign up.
On Wednesday, July 25th, we'll pick 150 people (at random) from all submitted registration. We'll notify everyone via email.
Why only 150? Simple.  We want to keep the group large enough to make an impact but small enough that my team and I can interact with everyone on a personal level.
And, you don't have to be a part of the support team to help spread the word. We're thankful to everyone who has already done so and those who are going to do so. This support team is just a little something more… a fun experiment too!
Thanks!
Ken