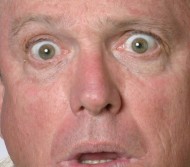 Many studies show that fear of speaking is rated right up there with their with fear of death.  That is because failing as a speaker is about as painful as dying.
At our Dynamic Communicators Workshop you can find the solution to both fears.
You will gain confidence.
Confidence is the opposite of fear.  We will teach you to prepare so that you can confidently step to the front, knowing exactly what you are going to say and why.   The improvement that takes place when you know how to focus a speech and stay on track is amazing.
You will become more dynamic.
Dynamic presentations make people want to listen to what you say.  They keep you from the death of bombing as a speaker, and they keep the audience from dying of boredom.   How cool to have people be afraid they will miss your next words.
Register today for this years Dynamic Communicators Workshop.
Use the discount code KENSBLOG and save $100 on tuition…. and that's not all!!!
Register before midnight tomorrow, February 15th, using the discount code KENSBLOG and receive a $200 dollar saving on tuition…. and that's not all!!!
If you register and comment below that you have registered on this blog,  I will give you 30 minutes of free personal consultation
Have you ever died giving or listening to a speech?