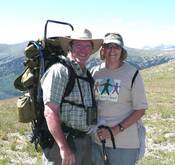 The day dawned with a gorgeous sunrise as we started up the mountain trail. The sunrise reminded me of why I love
Colorado
But something was missing. A thousand feet higher, we surrounded by pine and aspen and engulfed in the wonderful aroma that only the high mountain forest offers as a gift. What sweet memories were stirred as we hiked and yet there was still a nagging sensation that something was missing.
Two hours later we were above timberline at 13,000 ft. The sky was crystal clear. I could see for a hundred miles. Suddenly I knew what was missing. OXYGEN! I knew the sky was clear was because I was lying flat on my back gasping for OXYGEN. The top of the mountain beckoned to me but my lungs said, forget the top of the mountain, find something to breathe. I knew where the oxygen was and it wasn't UP. It was down near the trees and rabbits and other living things.
For several days our friends Randy and Chris Elrod have been our guests in this rarified atmosphere. Randy Elrod climbed Mt Whitney just a few days ago. Philip Yancey just finished the last of the fifty four 14,000 ft peaks in Colorado. I'm laying down sucking Oxygen. Sometimes in our effort to get to the top we forget how much we need the breath of life. You definitely have to LOOK UP to get that.