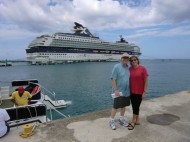 Last Thursday I stepped off of a Celebration cruise ship and onto dry land. I stepped from the relaxed atmosphere of ocean breezes, casual conversation with friends, into the frenzied world of canceled flights, missed connections, and last minute appearances on stage.
Somehow, I miss being on the ship. No, I take that back. I miss the relationships I got to enjoy while I was on the ship.
Finally I am home and this is my first opportunity to reflect on the lessons I learned on the #recreatecruise
1. Relationship is everything. Make time for it. Fight for it. Defend it. Nurture it.  Imagine five days with no e-mail, no tight schedule, no airline connections. Now imagine being able to, without interruption, play and eat and talk with friends you care about and meet new friends of like mind. That is the essence of a #recreate cruise. I am so thankful for great moments with Danny and Betsy De armas, Jerry and Gina, Derrick and Jennifer Huckleberry, Matt Baugher, Mike and Gail Hyatt, and Randy and Chris Elrod, .
Remember that "Cyber friendships" are made whole when you take time to meet face to face. Tweet and meet!!!!
2. Listen to the stories of others. Creative people can speak wisdom into your life. Randy Elrod, Mike Hyatt, Pete Wilson gave presentations that I will never forget. In addition, I gained valuable insights from hearing the personal stories from new friends I had never met before. I met so many new friends Sam, Lesa, Matt , Jerry, Alice, Erica, Chris, Paul,  just to mention a few.
3. Share your own story. I am so grateful for the response I have received from scores of people who were impacted by my presentation on living "Fully Alive." I am more convinced than ever that all of us need to live fully alive and share the experience with other people.  You don't need a stage, you only need a cup of coffee and some time.
5. Never jump into the air while riding on a small boat in rough seas. I jumped up just as the boat dropped about 15 ft. I stayed in the air long enough to think I might be on my way to heaven and came down hard enough to think I might be on my way to heaven.  I'm not sure where my back is going to end up!
6. Carve out the time to do all of the above. (number 5 excluded) If you can be on next years cruise, DO IT!  If you can't, then plan some unscheduled time to build and discover relationships.
Some of my favorite moments on the cruise were spent with Anderson, a young man who cannot speak. He cannot give a presentation. He can only express unconditional love and smile.
Meeting Anderson began with responding to a tweet from his dad.
Do you agree about the value of finding time to nurture relationships?   Love to hear your comments!