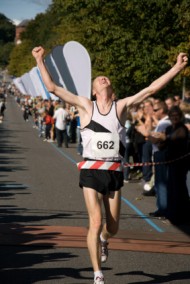 Will your leadership end in a small heap of burned out ashes or will you leave a Lasting Legacy?
In High School I joined the track team and signed up to run 800 meters which is about a half a mile.  I trained hard and on the day of the track meet I was ready to go.  This was a special day because my "girlfriend" was in the stands.  Okay I had never actually spoken to her but I "wished" she was my girlfriend.  I thought that maybe winning this race would make it happen.  The gun went off!  I took off like a shot.  After the first turn I was ahead of everybody, then one by one runners began to pass me.  As I started the second lap, I ran out of gas. I tried to keep going but it seemed impossible. My stomach sent a message to my brain. Evidently the sandwich I had eaten earlier in the day did not want to run with me anymore.  Before I knew it I was kneeling on the infield grass.  The sandwich came up first, followed by a grape I had eaten when I was seven.
My "girlfriend" was not impressed.  I left the stadium in defeat without finishing the race.
As I look back on that experience I am reminded of two simple principles that are embraced by leaders that last.
1.   Pace yourself.
Life is a marathon, not a 100 yard dash.  The prize goes to the man or women who finishes well, not to the one who is first out of the blocks.  Remember that the race of life does not have a winners circle.  It only has a finish line.
2.  Don't give up.
My biggest regret is not that I created a grape spectacle, it is that I didn't finish.  Runner, philosopher George Sheehan said: "It's very hard in the beginning to understand that the whole idea is not to beat the other runners. Eventually you learn that the competition is against the little voice inside you that wants you to quit." –
Where are you in the race? Be encouraged today.  Catch your breath.  Everyone gets to finish.  Pace yourself for the long haul so you can finish well.  Don't give up The tape at the finish line will still be waiting unbroken when you arrive. I look forward to your comments.