An empty cave!
It's Monday as I write this post.  The future is filled with many personal and corporate challenges, but as I prepare to face tomorrow I am overwhelmed with a sense of hope and celebration.  Why?  Last week we explored a cave with my grandchildren.  Centuries of erosion have left a big beautiful room carved in the rock.  It is also scary, cold and without light.  Tyler my grandson walked with me into the cave.  His eyes were so big I thought he might develop night vision on the spot and he held my hand with a vise-like grip as we eased our way deep into the darkness. More than once he wondered out loud if there was anything in the cave, monsters, wolves, bears?   Once we were back outside he embraced me and thanked me for showing him the EMPTY cave.  No monsters, no demons, no wolves.  EMPTY.
I want Tyler to know that the empty cave is one of the reasons to celebrate life.  That cave is not unlike the tomb where Jesus was buried.  Oh how scary and nightmarish our life would be without the knowledge that He is risen!  What great hope there is in the fact that the same power that raised Jesus from the dead is available to help us face tomorrow.  I want my life to demonstrate that there is no fear of the CAVE!  It is empty.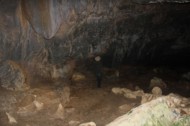 The power of love!
There are occasions when I live my life as though I have no power.  There are times when the challenges of life cast scary shadows on the walls of the cave and I retreat in fear or give in to some temptation. Yet, His love never fails.  I don't understand it!  But I believe it. And in believing I find hope for tomorrow.  He lives and He loves me no matter what.  How can I not celebrate today and look forward to tomorrow.
There is not a material possession that could outweigh the value of those tiny arms around my neck.  There isn't a lottery ticket or earthly pleasure that makes my spirit soar higher than the words "I love you." whispered in my ear.  And I find that in these days of my life, it is loving other people and showing them the empty cave and the power of God's love that drives me.  My career, my possessions, my health and talents are only tools to help me share with my family, my friends, and the people I meet something of greater value; the love of God that has been poured out on me.
So a wide eyed little boy, the unrestrained love expressed by six little bread snappers, an empty cave and the power of love drive me to live fully alive on this Monday and I couldn't keep it to myself.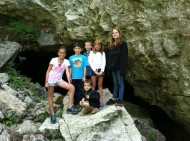 What is it that brings you hope for tomorrow and makes you celebrate life?