Dear Friends,
I wanted to take this opportunity to wish you a Merry Christmas and a Happy New Year.
As you can see our extended family just keeps growing up, and there is nothing we can do to stop it. Diane has agreed to stay with me another year and that's good. I am still speaking across the country but limiting the number of engagements that I take.
My oldest granddaughter Kialee is a sophomore at Western Kentucky University studying to be a nurse. Lexi, next oldest just celebrated her 18th birthday and graduates from high school this spring.  Jadyn, my youngest granddaughter is a 9th grader who is studying her iPhone and is a professional friend maker.  Preston, my oldest grandson is 16,  I think he's a genius because he is way smarter than me and genius is the next level above my intelligence level. Bailey 14 years old is also brilliant and one of the funniest people I know.  Tyler 11, is the athlete of the bunch. When he's not playing football or basketball he's conquering entire galaxies on an internet game.
My daughters Traci and Taryn learned from me what not to do as a parent and chose to model their mother's excellent child-raising skills. They also juggle jobs that will help them take care of me when I begin to lose it. My son in law, Scott still has the group Legacy Five and travels the country singing about the good news of Jesus.  
That's it for our clan. God has been good to us and we look forward to what he has in the future. We also pray that he will shower you and your family with many blessings.
Ken and Diane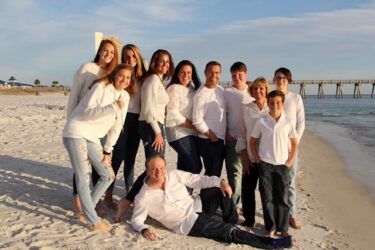 (Top row left to right: Lexi, Jadyn, daughter Traci, daughter Taryn, son in law Scott, Bailey, my short bride Diane, and Preston. Second row left side with thumbs up is Kialee. Pray that she will be able to afford new jeans. Far right second row is Tyler. Collapsed into the sand, the only one with shoes is ME!)