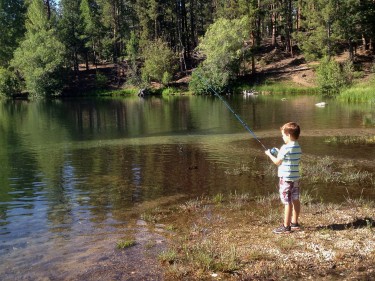 I can count on one hand the number of people who have profoundly affected my life. Alan Maxwell is one of them.  Alan is a successful businessman, with a huge heart, a generous spirit and a desire to serve God.  When he told me this true story, I knew I had to share it with someone.  Who better than you?  Read all the way to the end.  You'll be glad you did.
Alan looked forward to his grandson Matthew's summer visit. He had planned this time very carefully. He was filled with anticipation when his firstborn grandson flew into Eugene, Oregon, the summer he was ten and announced he wanted to go fishing with Grandpa.
In the midst of Alan's excitement, a gremlin of doubt raised its ugly head. All Alan could think of were the times he had taken his other family members fishing and caught nothing.  Alan was a man of faith and a successful business man but he never claimed to be a good fisherman.
Even though he is a positive thinking person, on this particular weekend, as Alan greeted the smiling face of his eager grandson Matthew, it was the image of failure that dominated his mind.
What if there were no fish?
He immediately tried to soften the possible disappointment that would come if they didn't catch any fish. "We'll have fun, even if we don't catch anything," Alan said. Older people call this covering one's behind.
But there were no negative thoughts in Matthew's mind as he confidently announced, "Grandpa, don't worry. God will get us fish." Alan thought about the boy's fragile faith and wondered if he was going to be responsible for breaking it. He tried to explain that God is faithful even when things don't go our way.
Alan was interrupted again. "Grandpa, don't worry," Matthew had said. "God will get us some fish."
Alan  immediately began to pray, "Please, Jesus, for the sake of this little boy, please let us catch some fish."
He was about to learn a whole new lesson about faith from a ten-year-old boy.
They had a blast getting their camping and fishing gear ready and packed into the old pickup. Alan had called an expert fishing friend and asked about the best fishing spots up in the mountains. They left after lunch on a Friday. He felt like a kid, too, when he was with Matthew. Passing cars could hear them singing as they headed for Oak Ridge, windows rolled down, wind blowing in their hair.
Alan lost track of how many times he prayed that little Matthew would catch fish.
He prayed setting up a campsite next to a beautiful stream.
He prayed that afternoon as he fished around the bridge downstream from the camp.
He prayed as Matthew and he cooked dinner over the fire and after dinner as they worked their way upstream.
Alan was not Catholic, but there was no fish on Friday.
As they sat next to the campfire that night, they talked about a lot of things. Stuff grandpas and grandsons talk about. And as they got into their sleeping bags, Matthew said, "Don't worry Grandpa, God will get us fish."
Saturday was a new day. It began with enthusiasm and hope, yet throughout the entire day and into the evening not a single fish tugged on their line. They had used every lure in the box. They had tortured more worms than they could count. Not a bite.
No fish on Saturday.
That evening Alan was really discouraged. "How could God look into the face of this child and deny him one fish? Even a minnow would suffice.
But Matthew was filled with confidence. They had one day to go. Plans called for leaving Monday morning. Maybe a prayer said on Sunday carried a little more weight, Alan figured. He prayed some more and then fished hard all day.
No fish on Sunday.
That night over the campfire Alan began formulating his backup plan. Surely the lake down the mountain was filled with fish. They could catch some there on the way home. He was quiet Monday morning as they packed to leave. Matthew was still expectant but by now Alan didn't want to hear him say how God was going to provide.
But somehow in the face of doubt Alan still prayed.
They took their time over breakfast. And, as they got ready to leave and then pulled out of camp, tires crunching on the gravel road, Alan spoke very practically about their odds of getting fish. They were on their way home.
A short way down the mountain on a long straightaway a vehicle going the other way passed by them. It was the only vehicle they had seen. A truck of some kind. Alan had a deep impulse to turn around and follow the truck. Keep in mind, Alan's not an impulsive person. He didn't build a successful business on following whims. But he pulled over to the shoulder and then turned around.
The truck was almost out of sight when he saw it turn off the main highway. He found the place where the truck had vanished turning down a narrow, bumpy dirt road. There, parked by the river, was God's incredible response to Matthew's trusting heart. Written in big letters on the back and side of the truck were just two words:
FISH TRUCK.
They came to a stop a respectful distance from the truck, and watched the two men prepare to distribute their precious cargo of fish into a beautiful river where not a fisherman was in sight. As the men finished and climbed into the truck, Alan approached and meekly asked if it was alright to fish there. The men laughed and said, "If you have your licenses, be our guest."
As soon as the truck drove off, Alan moved the pickup close to the river, retrieved the stowed fishing gear and started fishing. Matthew was laughing continuously.
He laughed as Alan baited his hook.
He laughed as he cast out his line.
He laughed as he pulled in fish after fish.
The more fish he caught, the harder Matthew laughed.
Alan was as excited as his grandson.
Occasionally the boy would catch his breath and announce, "Grandpa, I told you not to worry, God would give us our fish."
Soon they had their limit. They placed the fish side by side on a log and took pictures. Then they both looked at each other and at the same time said, "Thank you, God, for these fish."
Alan had been worried about Matthew's faith, but Matthew's faith was the faith of a child. It was rock solid. Alan had prayed that God would let them catch fish to strengthen his grandson's faith. God was interested in using this experience to show Alan how far he had yet to go in his walk of faith.
Alan discovered that day what we all need to discover.
A day without a bite is not a reason to give up.
A prayer that seems to go unanswered is not unheard.
Alan had been fishing for the right answer at the right time from his point of view. God had wanted to take him to deeper waters, and teach him child-like faith.
In the words of a child, don't worry. In his own time, and in his own way, God will give you fish. In the words of Scripture, "Cast your cares on the LORD and he will sustain you; he will never let the righteous fall."
This little boy taught me a lesson…. how about you?[reminder]