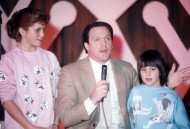 What does a father post on Father's day? In the past I have written advice on how to be a good father, which should have been titled: Things I Wish I had Done. I have also given advice on how children should honor their dad on this special day. Those posts were written as hints to my own children. This year I want to do something different.
I want to say thank you to my own two daughters who endured my bumbling attempts to be a good dad. I often tell young parents that in spite of their best efforts, it is likely that one day their children will be sitting in the office of a pastor, counselor or therapist, discussing the role you played in messing up their lives.
Looking back, I know I made some mistakes but I am so thankful. 
My girls grew to be beautiful young women who love me and allow me to be a part of their lives.
They have given me six wonderful grandchildren and permit me to spend time messing up their lives as well.
They love God and have taught their children that He is the greatest Father of all.
Thank you, Taryn and Traci. I am so grateful for the privilege of being your dad.  I love you!