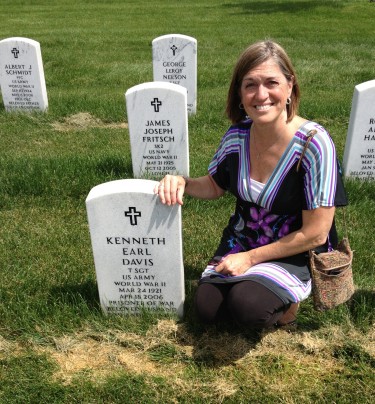 It has been almost 10 years since the day my dad was buried with military honors. At his memorial service I read a letter written by my friend Danny de Armas. Danny met my dad on several occasions but never realized he was talking to a hero.
I dedicate this letter and this post to all who have served in the armed forces. what you don't know can hurt you!
Thursday, August 18, 2005
Dear Ken,
They say that what you don't know won't hurt you. Truth is what you don't know can hurt you. Thank you. Because of you, I shook his hand. I sat as his dinner table. I rode in his car (an adventure all its own!). I only wish I'd known enough to tell him "thanks."  
You introduced me to him. It was really no big deal to me at the time. Another old man, hard to listen to, hard to understand. He seemed to be preoccupied the whole time I was around him. I watched you interact with him and it seemed difficult and awkward. He bounced from subject to subject and person to person. And yet, when I looked deeply I could see more. He loved you. And his appreciation for you, his daughters and his wife, was deep. I watched him one day as you entertained a crowd in his hometown. He was proud, but not in a way that indicated surprise. He expected you to be at least as good as you were. He was sure of your success.   
I wonder now about his secrets. I wonder how he suppressed his anxiety and fear. I wonder if the memories had faded, and pain worn off. Its no wonder that he could run a red light without fear. Its no wonder he could work quietly and patiently with his hands at his workbench.   
Until recently, I didn't know what people meant when they called his generation, the greatest generation. How does one come to that conclusion? Now I understand…they were the greatest generation because they were men and women, who choose service over self, sacrifice over gratification, future over present, and principle over peace. It was the greatest generation and Mr. Davis epitomized it.  
I never knew about…
him being abandoned by his country
​the sixty miles he walked …
the prison he lived in…
the meals he missed…
the beatings he endured…
the fear he felt…
the loneliness he suffered…
the despair he experienced…
the chains he wore…
the hope he'd lost…
the debt he paid so I can enjoy my pursuit of happiness.
If only I had known all of this, I would have thanked him myself. What I didn't know did hurt me…and cost me that opportunity.  
Danny DeArmas
My sister, Candie Blankman has written a book that details how our family was impacted by my fathers experience as a POW.  You can learn more about it by clicking here.  [reminder]