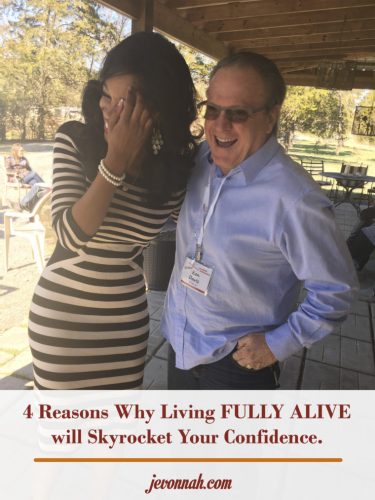 A lot of people ask me why I am not retired at this ancient stage in my life. I'm certainly not looking for more fame or money. I keep going because of the inspiration I get from people like my dear friend Lady J. 
As long as my books and appearances continue to touch lives, I will continue to try to live fully alive. Enjoy Jevonnah's amazing post and I will pass your comments on to her.
by Jevonnah "Lady J" Ellison
We just celebrated the 4th of July here in the U.S.
In celebration of our independence and those who sacrificed their lives, no doubt you saw, or at least heard the fireworks skyrocketing into the sky to celebrate the historic holiday.
I want to share with you something else that will help skyrocket your confidence, both personally and professionally.
Living Fully Alive
I just finished reading a fantastic book by Ken Davis. The name of the book is Fully Alive, and it is a journey that will truly change your life.

I had the honor of spending time with Ken at a recent Coaching with Excellence conference. He is real, relatable, wise and an absolute joy to be around.
I read the book during one of the most trying times of my life – while I sat in the hospital waiting room waiting for doctor's to complete a risky 6-hour surgery on my Mom to help remove traces of cancer.
When Your Faith is Tested
Here's the truth.
When the sea of your life is calm and there is no storm raging, it's pretty easy to quote bible verses that build your confidence in God.
But it's when the winds are blowing furiously and without mercy, and the rains seem to be shattering your very soul that you must reach way down into the reservoir of your heart and pull out God's grace that promised to always be with you.
I'm reminded of the old gospel song by Douglas Miller – My Soul is Anchored:
Though the storms keep on raging in my life,
and sometimes it's hard to tell my night from day.
Still that hope that lies within is reassured
as I keep my eyes upon the distant shore;
I know He'll lead me safely to that
blessed place He has prepared.
But if the storms don't cease,
and if the wind keeps on blowing,
my soul has been anchored in the Lord.
Here are 4 Reasons why living Fully Alive will help skyrocket your confidence during trying times: 
You'll build an unshakable faith. Because Ken is so open about his own life, ups, downs, successes and failures, you quickly realize that you're not alone. You'll see how he used his faith to get through the roughest time of his life.
You'll develop a stronger attitude. Attitude determines action, and action determines accomplishment. You'll discover that everything you truly want is directly connected to your ability to have a positive attitude about it.
You'll share joy and life with others. While I was sitting in that hospital room at my Mom's beside, several nurses asked me what I was reading. I had an opportunity to not only tell them, but to also share the gospel. Living fully alive means passing the goodness of God's grace you've experienced along to others on their journey.
You'll replace fear with faith. Ken has you do an exercise mid-way through the book where you write down all your fears on the bottom of a piece of paper in small writing. Then, at the top of that page, he has you write the word: CONFIDENCE. Underneath the word confidence, you write the 23rd Psalm. You let that take up the rest of the page. Then, you take the bottom part that had your fears and tear it up in tiny little pieces. God's confidence has taken the place of your fears. Wow! It was a tremendous experience I'll never forget. I encourage you to do it for yourself.
Your Turn: How does living out the 23rd Psalm help increase your confidence? What areas do you want to be strengthened in? Leave a comment below. I love hearing from you, and would be honored to pray for you. [reminder]