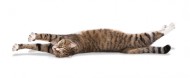 It wasn't a big move. I pushed my racquet ball opponent to one side and reached to hit the ball. I fell to the floor screaming in pain. It felt like someone had stabbed a knife into my calf.
"I must have pulled a muscle," I thought.  After several minutes the pain subsided a little and I decided to get up and gingerly walk it off.  With the first step crumpled to the floor again. I had torn a calf muscle and ended up on crutches. It took almost two months before I could run or play any sports again. The doctor told me that all the pain and suffering could have been avoided if I had done just one thing…

Stretch!
Most of us begin to lose mobility early in life and many people find themselves almost helpless in later life.  By age 50 some people cannot tie their shoes without enormous effort. Then when life does require a quick physical response outside their range of usual movement, something pulls or tears or breaks.
In the case of the racquet ball injury, mobility had diminished over night like it does for all of us.  Had I stretched before I started my racquet ball game, that extra little effort might not have cost me so much.
We should stretch in every area of our life.
We should do it every day.
Moving out of our comfort zone creates a new comfort zone and expands the joy of living.
We encourage the people who attend our SCORE conference to stretch out of their comfort zones as they speak.  We ask them to use expansive gestures and facial expressions. We help them experiment with the full range of their voice and establish uncomfortable eye contact. "It feels weird," they say. "It almost hurts." Absolutely! Just like physical stretching it does hurt a little when you push yourself beyond the normal boundaries of your life.
But guess what?
If you are willing to stretch, when you go back to "normal," it won't be to the same normal you experienced before.
You will have created a new NORMAL!
You will be more limber physically!
You will be bolder socially!
You will be a more dynamic speaker, better friend, more fully alive.
You will be a more faithful and capable follower of Christ.
And, if you don't stretch whatever is normal today shrinks to a smaller, stiffer, less alive normal than the day before.
I want to live to the full capacity of my life today.  I want to be able to call on my body mind and spirit to respond to an emergency when needed.
I once stopped by a room in a gym where these amazing wheelchair bound people were stretching to the limits of there ability. Another day at the pool I watched as men and women in their 80s and 90s did water exercises to keep their muscle toned and working. None of these people will ever catch a touchdown pass, but every one of then is living a better quality life than the man or women confined to an armchair watching television.
Why is it so hard for us to stretch?
In what areas of life do you need to stretch?
Try it. Get outside your comfort zone physically, mentally and spiritually. Then come back to this blog post and tell me what happened. I'm going to stretch and I promise to come back and report on what happens to me.
[reminder]Reporting a stretch? Good![/reminder]