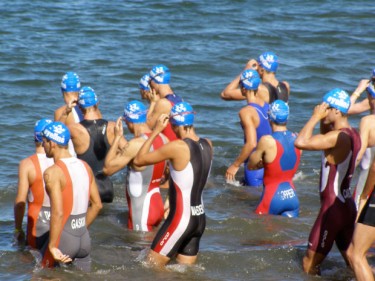 Yesterday I started a twelve week training program preparing me to compete in my 4th Triathlon on May 17th. I can almost hear you muttering, "Why would an old guy like you do that?"
Having a goal like this out in front of me inspires me to work toward that goal. Working toward that goal, keeps me on an activity schedule that sheds pounds, makes me stronger, and keeps me healthy.
It has worked EVERY time. However this time I am going to do four things differently and I am asking YOU to be a part of all four.

1. I would like to have you in my corner encouraging me to stay with the program.
2. For the first time I am training with the specific goal of taking first place. I can't do this alone. I need cheerleaders.
3. I would like you to set a health goal that can only be reached by consistent activity and let me in on it and allow me to cheer you on.
4. I have asked my team to build a place where people who want to live fully alive can be in an internet community with others who seek the same goal. It will include discussion forums, tips on staying fit and healthy, and websites and apps to help you live a healthy full life. I want you to join us.
If you are willing to be part of my team please  "LIKE" me HERE on my Facebook Page and post a comment that says, "I am on your team!" Your support will inspire me more than you know.
My event is the Cedars of Lebanon Sprint Triathlon. Watch our Facebook Page on the day of the race. Let's build a group of people who will support and encourage each other.
[reminder]Will you join my team? Watch my Facebook Page for the exciting news of what is coming.[/reminder]