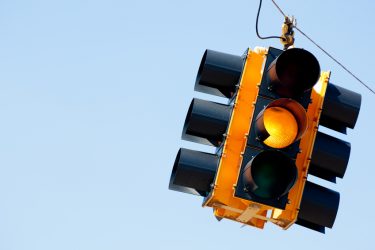 A motorcycle policeman pulled over a car that had just rushed through a yellow light. The driver explained that when the light turned yellow he thought it would be better to speed through than to stop suddenly and risk getting hit from behind. He reminded the of officer that it was not illegal to go through a yellow light.
The policeman didn't buy it. He gruffly insisted there was no excuse to speed through a yellow light. "The next time a light turns yellow, you stop!" he snapped. The driver tried once more to explain his fear of being hit from behind, but the policeman cut him off and wrote a warning ticket for reckless driving.
About five blocks later, still fuming over the brusque lecture he had received, the driver approached an intersection just as the light turned yellow. He slammed on the brakes only to hear the squeal of tires and a thump from behind.
The sight he saw in his rearview mirror made up for a rough beginning to the day. The motorcycle policeman was pushing his bike back from the bumper of the car, staring into the distance as though nothing had happened.
Sometimes God uses unique circumstances to bring a smile of blessing to our face. Watch for your blessing today, and be careful at those yellow lights.
Judge not the Lord by feeble sense,
But trust him for his grace,
Behind a frowning providence,
He hides a smiling face.
– William Cowper, "God Moves in Mysterious Ways," 1774
---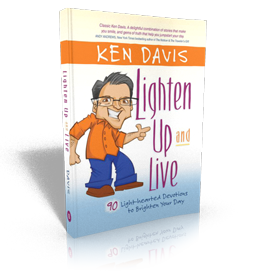 This post is adapted from Ken's Devotional book Lighten up and Live! 90 Light-hearted Devotions to Brighten Your Day. A perfect way to start your morning. Get it here.