This week I celebrated my 70th birthday. No! That's not true. This week hundreds of wonderful friends held a surprise party to celebrate my birthday. My staff, my family and my friends made this one of the most blessed days of my life.
It started with a surprise dinner at Mellow Mushroom in Franklin, TN. That dinner was a celebration but also a smoke screen to set me up for the real thing. The real thing was as unreal as it gets. Keep reading to preview just a few of the fun moments of the night.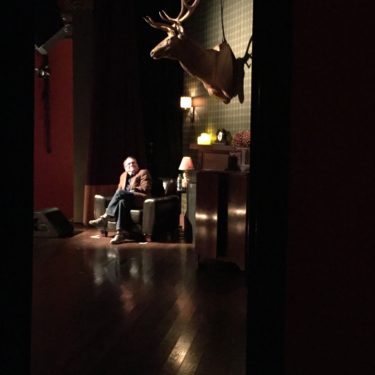 As we walked back to our car from dinner, I noticed that one of my dearest friends, Bob Stromberg, had his name on the marquee of the Franklin Theater. Diane told me that she had purchased tickets as part of my birthday surprise. Little did I know that the theater was filled with 160 people who were there to watch some of my closest friends roast and honor me for my birthday.
Comedians: Tim Hawkins, Daren Streblow, John Branyan and David Pendleton, (The lost boys of my three previous posts: part 1, part 2 and part 3) did cameo performances that gave a whole new hilarious meaning to the word ROAST.
Friends like Dan Marlow, from before the revolutionary war talked of my influence on their lives. Chuck Christiansen, who was 14 yrs old when I mentored him in the early 1970s, performed a song he had written in my honor. I even received a video message from my long time friend, Bill Gaither.
Michele Cushatt, author of Undone, who didn't even know she was a comedian, honored me with a side-splitting and affirming presentation.
George Bush impersonator, John Morgan had people in tears with his tribute and performance of an original song written just for the occasion.
I received over 100 video clips of congratulations and love. It will take me close to a week to watch them all.
I was overwhelmed and as usual, I contemplated what I learned from this humbling experience…
The kinds of tributes I heard that night are usually only spoken when the coffin is too tightly closed for us to hear them. Every person needs to have this kind of experience before they die. The number of people who attend doesn't matter. Each of us needs to hear of the unknown influence God has allowed us to have on lives.
Everything of any importance in life boils down to relationships. If one subtracts God, family, friends, and the beautiful people who's lives we touch then we have nothing.
You have no idea of the influence your life and words have on others. I have lived with insecurity and self doubt most of my life. I came away from last night still insecure and filled with doubt, but knowing that God has used me in spite of myself… maybe even because of myself.
The words I love you, need to be spoken often and with sincere meaning. Those words are not reserved for young lustful lovers. They are the words God spoke and demonstrated to use and need to be passed along on a regular basis.
My daughter, Traci, recounted one of the most embarrassing moments in my life (don't ask) as well as her gratitude for the laughter that often reverberated in our home. Then, in front of the multitude of crazy friends she proclaimed her love for me.
A final part of the program included my blessed grandchildren saying the words we were all born to hear.
I could die a happy man now but I have decided not to rush it. After all, at age 80 I might get another crack at this blessing.
Thanks to all of you who attended and sent cards and messages of love.
Many thanks to Matt Brady, Lauren Brady, Joy Groblebe, and my bride, Diane, for the hard and deceptive work they went through to surprise the guy who can't be surprised with one of the most blessed nights of his life.
Have others blessed you with an outpouring of love?
Have you ever totally surprised someone?
[reminder]