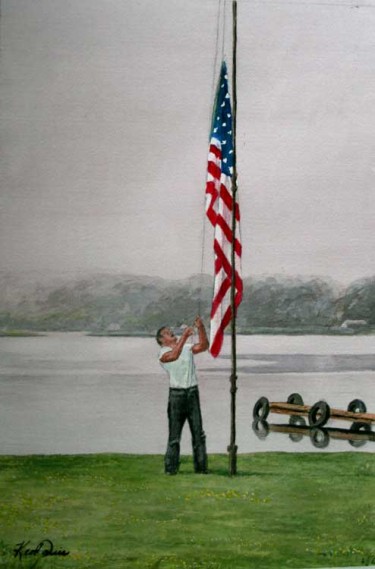 This is a watercolor I painted of a hero.
This is a man who survived one of the most brutal events in history. The Bataan Death March. 
This is a man who spent 3 1/2 years in a Japanese Prison Camp.
This is a man who weighed 85 lbs when he was finally released. He had malaria, dysentery, and could barely walk.
This is a man who was told he wouldn't live past fifty. Eight years ago, he died at age 82 .
This is a man who was told he would never have children.
This is my father.
This is how he started each day  lest we forget the price payed for our freedoms.

I promise I won't, Dad.
How do you honor the memory of your loved ones who died in combat or have served in the armed forces?
My sister, Candie Blankman,  traveled halfway around the world to retrace my dad's footsteps.  She recorded the impact of his war experience on her life in the book "Forged by War."  You can get her book here.
[reminder]