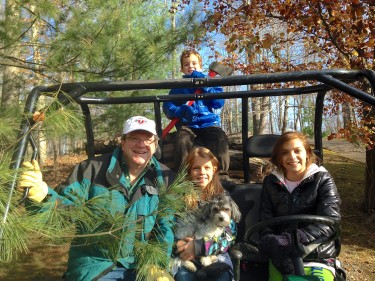 If you are like me, trying to decide what to give to the people you love at Christmas can be a daunting and stressful task. Here is one gift that comes already wrapped, can't be put under a tree, and will be remembered long after the other gifts begin gathering dust.

GIVE YOU!
1. Give your Time
Zig Ziglar once told me, "Love is spelled, T – I – M – E."  He is right. I think "time" has become the most valuable thing I have to offer and it is increasing in value the older I get. If I could do my life over one thing I would change would be to give my family and friends more time. I recently realized that the opportunity for this kind of giving closes far too quickly. My beautiful grandchildren once clamored for time with Grandpa. Now the older ones have there own bank account of time and it is I who must often ask to make withdrawals from that precious account.
2. Give your Attention
You ask, "Isn't that the same as giving your time?" Early in the lives of my children I would bring them with me to many events and have them accompany me on my adventures. The key words in that sentence are ME and MY. Only later in life did I see how different that was from me being with THEM, creating adventure for THEM, or more importantly my being involved in the adventures they created for themselves.
3. Give them your verbal expression of love.
"I love you" may be the most important expression in the universe. I believe these are words we were born to hear and yet it is far to easy to let large chunks of time pass without saying those words. Without those words life is meaningless.
Giving the gift of those words brings meaning, hope the one who hears them. When I recently received a video birthday message from friends and family proclaiming their love, it stirred my soul. When I remember that the message of Christmas is about a creator expressing his love by giving HIMSELF, the assurance of that love informs and transforms my life every day.
God did so much more than give me commandments.
He took time to come and live here. He experienced what I experience. He knows what I face.
He focused his attention in my direction. He is there for me every day.
He gifted me with the ultimate expression of love.
Oh yes, He did give me a commandment, the most important commandment of all. He said, "Give other people the gifts I have given you."
[reminder]Do you remember a time when someone gave you time, attention, and love?  How did it affect you?[/reminder]