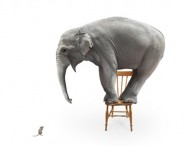 Last week Americans watched in horror and some with fascination as two young men paralyzed a city of more than a million souls.  For days people huddled in their homes, mostly because authorities requested it as a strategy to smoke out the cowards who had planted bombs at the Boston Marathon, but many others huddled in fear.  
I am not a social scientist, but I have a theory.  If you spit in the face of fear, terror loses its power.
If you check a dictionary, the first synonym listed for "fear" is "terror." The first synonym listed for "terror" is "fear." Terrorism is wholesale distribution of fear and we are already susceptible. We live in a culture dominated by fear;
fear of financial failure
fear of personal failure
fear of poor health
fear of rejection
fear of difficulty
fear of death
Add your own fear to the list.
We have a only a few options in regard to fear. Choose to live in fear! Choose to cease living because of fear! Choose to live in spite/spit of fear!
I choose the last option.  I refuse to allow anyone to keep me from living. I refuse to allow anything to set itself up as bigger and badder than the God I serve and the purpose to which he has called me.
Remember September 11 2001? Without hesitation I would have boarded a plane on Sept 12th, most certainly to get to a desired destination, but also in defiance of those who would try to use fear to stop me from living.
Someone called a Nashville radio station last week. They were considering backing out of the  Nashville's Country Music Marathon because of what happened in Boston.
Are you kidding me?
I have never run a marathon, but I might enter this one just out of spite/spit.  This isn't  about the tired mantra we've heard, "You should run the marathon or the terrorists win!" It is about the truth, "You should run the marathon or your spirit loses."

Here are Five Resolutions that can keep fear from dominating our life.  These resolutions are useful no matter what fear you are facing.
1. Resolve to be Wise
Running across four lanes of traffic at night dressed in black clothing is not a sign of courage, it's a sign of stupidity.  Running across four lanes of traffic to save a child who has wandered onto the freeway is courageous.    Wisdom is knowing the difference between courageous and stupid and choosing to be courageous.
2. Resolve to be courageous.
Decide ahead of time to be willing to risk your life for the sake of others.  First responders do it for a living.  For followers of Christ it should be a way of life. This lifestyle crushes fear. The Bible puts it this way, "Love casts out all fear." It's only when we're obsessed with ourselves that fear dominates.  Our self centered culture feeds on fear.
3. Resolve to live with purpose

Those who have a reason to live beyond just staying alive are the ones who stay alive.  They don't cower in the face of fear, they don't back out of the next marathon, they don't stop proclaiming their faith, they don't cringe in the face of criticism. They live! The purpose driven life grinds it's heel in the face of fear on the way to a higher goal. The Apostle Paul said, "For me to live is Christ and if I die, I gain."   Put that in your pipe and smoke it, scary thing!
4. Resolve to seek hope.
The force behind Paul's commitment to living full alive was his hope in the Power of Christs resurrection. His belief in eternal life made him almost impervious to the threats of death and torture that were hurled at him.  His belief that the same power that raised Christ from the dead was available to help him live out his intentional purpose no matter what the cost, made him an illusive target for fear. That same power is available to every follower of Christ.
5. Resolve to live free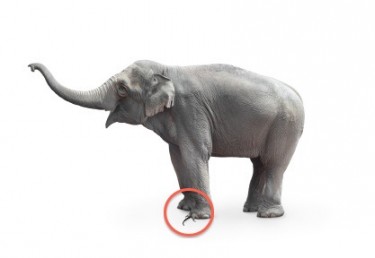 "Know the truth and the truth will set you free."  Free from what?  From bondage, and fear, and all the things that keep us from living fully alive.
We know who put the world in place.
We know who's hand holds it in place.
We know his love and design for us.
We know that he has defeated EVERY evil imaginable and shares that victory with us.  Even death has lost its sting.
The human spirit cannot be killed!  It can only be surrendered! Choose wisdom, courage, purpose, hope and freedom……. LIVE!
How did you respond to the Boston bombing? What is your fear? Have you ever spit in the face of fear?
Your honest comments will be so helpful to all of us.