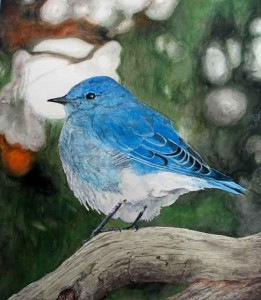 If you ask children what they want to be when they grow up, you're likely to hear, "ballerina," "professional baseball player," "artist," or some other seemingly impractical response.
But then something happens. We grow up. And we often put away what many consider to be childish dreams.
I guess now is a good time to confess that I am a secret amateur artist. Years ago I made extra money to finish college by doing oil paintings and then I put down the brushes for almost thirty years.
Recently I investigated watercolor and was hooked. I love doing watercolor paintings. Like life, watercolors are unpredictable. One has to learn to make beauty out of what the paint decides to do. I am a controlling person so this is a real challenge for me.
My friend, Michael Hyatt, had a similar experience. In the same way that I put down my brushes, he put down his guitar, and just recently discovered the joy of picking it back up again.
[reminder] What have you put down? Do you have a hidden talent that has long been buried?[/reminder]
By the way, the picture at the top of this post is a watercolor painting of a bluebird photograph sent to me by my cousin, Jim Christensen. His ability to capture unique images of nature inspires me to paint. Jim sees the color in life we so often miss.