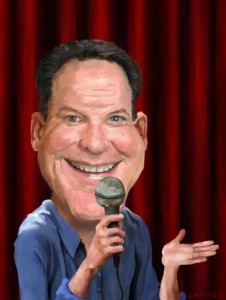 …they exaggerate the truth! They have the gift to see what makes each of us unique and accentuate that (quality???) They make it so easy to identify an image unmistakably. See the receding hairline? See the cheeks that look like I am storing nuts for the winter? See the "Jay Leno" chin? It's me!
Am I offended? Absolutely not. It would be an insult to God to be offended. He made the original along with all the interesting anomalies. Although, I did wonder, "What's with the tiny hands and arms?"
Josh Cassidy painted this caricature of me. He is a talented artist that can see and capture the nuance of personal features. The detail in his work is amazing. Josh is also an excellent blues artist and songwriter. When God passed out talent Josh came back for seconds so God gave him some of what He was going to give to me.
Take a look in the mirror today. See what Josh sees. More important, see what God sees. You an amazing creation! One of a kind! And you are loved. What more could you want?
Check out Josh's work and don't forget to check out the mirror!