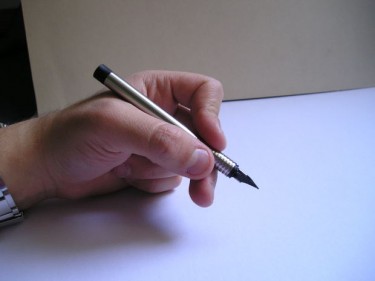 Wait!!! Don't press delete!
I'm not talking about writing a book. I guarantee that if you write just a few paragraphs every day about your experiences, hopes, memories and feelings and you will immediately begin to experience benefits to your personal growth and potential.
If you are not interested in growth and potential you can press delete now. If you are, continue reading to discover what you might be missing.
You will almost immediately become better at expressing yourself. When I am forced to write every day because of a book deadline, I am always amazed at how quickly my writing and verbal communication skills improve.

When we become lazy with words, it is more difficult to describe feelings, share experiences and make ourselves understood.

You will remember things long forgotten. As you write about memories it is like opening an old photo album. Your pen begins to expose feelings and details you had forgotten, and dreams you had lain aside. You suddenly remember people you would like to reconnect with.

Writing is a focused activity that keeps distractions at bay long enough for you to explore wonders of the past. Sometimes it is frightening, sometimes wonderful and almost always beneficial.

Writing about daily experiences and feelings provides a recorded history that will impact how you make future decisions.

There's a reason that the greatest leaders in history were students of history. They learned from what had happened before. Your history is important. Don't let it be forgotten.

Writing reminds you of your dreams and keeps you moving toward them. It is a means of keeping track of your purpose and the goals that will lead you to fulfilling them. Reviewing what you have written is a perfect way to see your progress and to reveal when you have been distracted and may need to refocus.
Writing gives you a record of God's faithfulness. In the midst of troubled times it is so easy to forget what He has done for us.

In my book Fully Alive I wrote a chapter entitled "Out of the Valley of the Shadow of Death." That chapter includes an entry I found in my journal that was written at one of the lowest points in my life.

When I read it again I wept, because I had forgotten the hopeless feeling of that experience and the joy of being delivered from it.

Writing a little every day could provide the material that someday becomes a published book. When I wrote about my depression and about my four-year-old granddaughter being lost in the mountains, I never dreamed it would be in a book.

My friend and business partner Michael Hyatt just wrote a best seller, Platform: How to Get Noticed in a Noisy World. Much of his book was based on short posts he wrote over several years.
Try this. Buy a small notebook or create a file on your computer called "My life." Write something every day. It might be:
A memory
A prayer
A blessing
Feelings
Something that made you laugh
Something you are proud of
A promise
A dream
Something you are thankful for
Forget about making it perfect, just write it down.
You say you don't know where to start??
Start right now by writing a comment on this blog post, then keep writing something every day. When you begin to experience the benefits write to me again and let me know.
My friend Jeff Goins says, "We are all writers, some practice and some don't." If you want to become a better writer, you will enjoy reading his posts here.