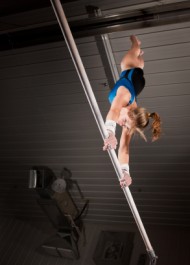 I love the Olympics!  This morning as I recovered from my little one hour run, complete with a sprained ankle, I watched the Australian women floor exercises.  How is it possible for a mere  child to leave the earth and do two laid out flips and land on their feet, balanced, coordinated, and beautiful?  What marks a champion like this?  Three characteristics caught my eye.
1.  Focus  –  is a characteristic of all champions.  
It was spooky to look into the eyes of a focused tiny 15 year old girl ready to begin a routine.  These girls are doing superhuman feats that require perfect timing and coordination, other distracting events are going on all around them. They don't see or hear any of it.
I watched an Australian gymnast begin her routine just as another competitor fell from the balance beam within her field of vision. The crowd gasped.  She never flinched.  Didn't blink.  She was focused on her routine and would not be distracted.
"SQUIRREL!!!!"   Nope!  Wouldn't work with this girl, a focused Champion!
2.  Determination – marks a champion.  
Last night our entire family watched one of the American Gymnasts fall from the high bar attempting the most difficult element of his routine.  He slammed into the mat and was visibly shaken.
Within thirty seconds he was back on the bar where he completed the maneuver to perfection.  He didn't give up.  His score wouldn't be perfect but he knew every point counted and he was determined to keep trying till he got it right!
"GIVE UP"  Never! Not for this champion
3.  Dedication – is foundational to a champion
Dedication is the key that opened the door of opportunity for each of these amazing athletes.  When their friends were at parties they were practicing.  When their peers were eating ice-cream sundaes they were following a strict diet.
In their beginning years it was their dedication to a goal that brought them the focus and determination that would make them Champions.
All of us are not equipped to be Olympic Champions. In my book "Fully Alive" I tell of my friend Roger Mateer who has faced daunting challenges in every area of his life.  He spends much of his time in a wheel chair but lives with the Focus and Determination many of us long for.  Roger IS a champion.  Even if we don't have an athletic bone in our bodies,  we can be a champion IF……..
we FOCUS, and refuse  to be distracted..
we press with DETERMINATION and refuse to give up..
we REDEDICATE  ourselves to being everything we were created to be.  
What is your goal? What steps do you need to take to be a champion where you are right now?
Life has no winners circle or gold medals but it has a finish line.  It is so sweet to cross that line when you have run…. like a champion!
___________________________________________
Other News
Our fall SCORRE conference for men and women who are determined to be champion speakers is filling quickly.  Michael Hyatt, our amazing team of coaches and I would love to see you there.  Register here today!
My 7 year old granddaughter climbed 1000 feet with me to Harvard Lakes in Colorado.  Talk about determination.