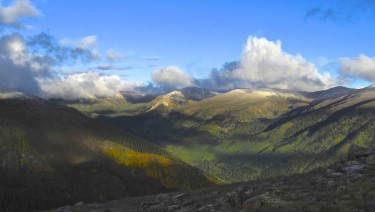 I am currently on a sabbatical in the beautiful mountains of Colorado. During my time here, I recharge my batteries and restore my body to some sense of physical shape. (Round is a shape)
Yesterday I hiked 4 miles up and down high country ridges and valleys. A total of 3000 ft up and 3000 ft down. By the time I returned home it was almost dark.
On the drive to our cabin I relived the events of the day and these thoughts on handling the ups and downs of life danced in my brain. I hope you find them helpful even if you don't dance.
Prepare for the Journey
Every day is going to bring its own series of ups and downs. Why not begin each day preparing for the journey. I spent over an hour making sure that I had enough water and energy snacks, with me. I packed emergency equipment and navigational aids to help me find my way to my destination.
So why am I so careful about planning for a hike, and sometimes so careless about preparing for the daily journeys of my life? Every day I need the strength only my creator can provide. I will need to be prepared for unseen challenges, and stock up on the spiritual and emotional energy that can carry me through.
I am determined to return to the discipline of starting my day with prayer and meditation on God's Word. That is the source of the sustenance, and guidance I need every day.
I wouldn't think of heading into the mountains without supplies that will sustain me. Why would I begin my day without stocking up on the strength and wisdom that God offers.
Take Time to Enjoy the Journey

I'm the kind of person who tends to choose a goal and then march blindly toward the goal, missing the beauty along the way. The rewards of the hike to a far ridge are not only the views from the top of that ridge but the little blessings all along the way.
Know the Terrain
Expect that every journey is going to have it's mountaintops and its valleys.
People who always claim to live on the mountaintop are either delusional or liars.
If we expect that life will always be easy going we will surely be disappointed. Everyone who breathes has either been through a valley or will be facing one soon.
Yesterday's hike had moments of exhilaration and moments when I wondered if I could climb the next ridge. Don't live with the expectation that the journey will be easy. Live with expectancy, knowing that whatever the situation, God will provide. Look for His blessings all along the way.
Pace Yourself when the Terrain is Steep
Once I get started I don't like to stop until I have reached my destination. Fortunately my legs and lungs are smarter than my brain. The rest-stops gave my body a chance to recover so I could continue the journey.
The whole reason I am on this sabbatical is to give my body a chance to recover from security gropings, airline schedules, hotel loneliness, and performance pressure. These weeks will allow me to continue my ministry when most people have retired.
Why haven't I retired? Because what I am doing makes a difference and I still have a lot of energy left. Also because I can see another ridge I want to climb.
Life is not a race. It does not have a winners circle, it only has a finish line. Pace yourself so you can make it all the way.
Be Careful Going Down Hill
My most dangerous falls have taken place when the going is easy. After almost five hours of hiking "dangerous" high country yesterday, I fell walking down the gravel road to my truck.
I was almost home, going too fast when I lost my concentration, stepped on a rock that rolled from under my foot and down I went. The journey of life isn't over until you're finally home.
Whatever your journey I pray that you will revel in the peaks and the valleys and remember the One who is with you every step of the way.
[reminder]