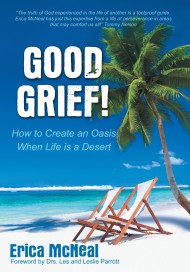 In spite of the difficulties I have faced in life, I have lived a fairy tale existence compared to the pain and loss many have had to endure.
I often wonder, when tragedy does strike, how do we deal with it?   When one of my friends is suffering how should I respond? What do I say? I just read "Good Grief," a book by Erica McNeal that answers those questions.  Good Grief is a moving story of loss and grief and grace.  The parts of the book that detail Erica personal experience as a three time cancer survivor and a mom who lost five children are heart wrenching and filled with hope.  This is not super woman, this is a woman who has leaned on a super God.  Her book brings encouragement to those who face grief and a clearer understanding of what to do when you are the friend or loved one who must walk through the valley with them.
I wondered where the phrase "Good Grief came from so I looked it up.  It is probably a minced oath – that is, a softened form of another exclamation that might be deemed blasphemous. In this case, the other exclamation is "Good God!" In context of the title of Erica's  book it is far from blasphemous.  Good Grief certainly leads to a "Good God"  who brings Great Hope.
Yesterday,I recommended Good Grief  to a woman who lost two boys. No matter what your situation, I recommend it to you.
What have you faced?  What hurtful or helpful things did well meaning people say?