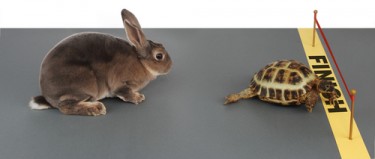 In High School I signed up for the track team and trained to run 800 meters which is about a half a mile. On the day of the big race I was ready to go.
That day did not go as I had planned. The lesson I learned can save you from a lot of guilt and stress. 
This was a special day because my girlfriend was in the stands. Well, she didn't know that she was my girlfriend, but I knew. That was all that counted.
Maybe winning this race would turn my dream romance into a reality.
When the starting  gun went off,  I took off like a shot. After the first turn I was ahead of everybody. At a quarter mile I ran out of gas. I tried to keep going but it was impossible.
My stomach sent a message to my brain. The sandwich I had eaten earlier in the day didn't want to run with me anymore. Before I knew it, I was kneeling on the infield grass. The sandwich came up first, followed by a pizza I had eaten a week ago, and finally a jar of strained peas I had eaten when I was a baby. I am sure the girl was impressed.
I have never forgotten the lessons I learned that day.
The first person out of the blocks is not always the first person across the finish line
An effort to do your best may take you further than an effort to best everybody else
Pace yourself

Finish well

"…Forgetting what is behind and straining toward what is ahead, I press on toward the goal to win the prize for which God has called me heavenward in Christ Jesus." (Philippians 3:13-14)
[reminder]