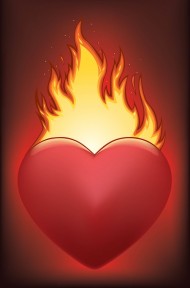 Passion is a big juicy word used most often in the context of romance or sexual intimacy.  But the word is much bigger and more important  than that.  Your true passions are what will ignite the fire in your soul to live fully alive.
Six words spoken by my high school English teacher, Francis W. Peterson, ignited a passion in my life.  Rather than punish me for my deplorable conduct in her class,  this sweet woman chose to encourage me.  "God has given you a gift" she said,  "You've been using it to destroy my class.  Now you will learn to use it for good."
With that she put me on a track that would define much of the rest of my life.  For over 40 years I have been privileged to develop that "gift," using humor to hammer home life changing truth, to impact millions of lives.
Henry David Thoreau is credited with saying, "Many men lead lives of quiet desperation and go to the grave with their song still in them."   I know many people who aren't even sure what their song is.
Here are six keys that might unlock the secrets to living out your passion.
1.  Identify your passions.
My teacher's words, "God has given you a gift" clarified my passion.  For awhile I thought using that gift to seek fame or fortune might be the driving force in my life.  Over the years it became increasingly clear that it wasn't even just speaking and making people laugh that defined my passion. Today I know that using my talents to enable people to see their own gifts, to help them know the love of God and to encourage them to live fully alive is at the core of what fires my passion.
2.  Know where your passions came from!
Mrs Peterson's encouraging words did not rewire my DNA; they identified my DNA.  She saw what I had not yet seen.  Even my negative behavior was really just a vain and inappropriate attempt to express my passion. As you look back on your life ask yourself:
What things have I always done well.
What things made my heart soar with joy.
What things would I want to do even if I wasn't paid for it.
What things do I do that empower and enrich the lives of others.
Take some time right now to list what you believe your passions might be.
3. Choose the passions that are most important!
Not all passions come from a good place.  Feeding a soul with selfish or evil ideas can build flames of passion that become difficult to extinguish, consume all available energy, and eventually destroy lives.
Some passions are more important that others.  I have a passion for golf and painting and hiking but if I devoted all my time to those activities I would have no time for the real passions of my life.
Some passions aren't big enough to be  passions. They more accurately belong on a bucket list or a list of goals.  It is a passion to be a writer, yes!  But to write a book? Maybe not.   What happens after you've written the book?  Is the passion then gone from your life?
A passion should be something that cannot be completed.  It is the power that drives you to complete goals and choose priorities in your life.
At the core the desire to honor God with my life, positively impact my family, my friends and the people I am privileged to perform for, are the top passions of my life. In all of those relationships I want to help people live fully alive.  Phil Michelson or Peyton Manning would obviously have a different list of passion priorities based on their unique gifts and personal beliefs.  Yours will be different, too.
At the core of my passions is the desire to changing lives.  If something happened so that I could never speak another word, I would still try to find a way to impact lives.  Try to number your passions in order of their importance.
4.  Identify obstacles!
Poor time management can be an obstacle to living out your passion.  For a period of time good things can keep you from spending time pursuing your passion.  Responsibility trumps passion during some periods in our life.  Parenting is an honorable responsibility that temporarily might be higher on the priority list than another passion.  So how can you live out your passion when there are temporary obstacles or when important responsibilities are holding you back?
5.  Find a way to live them out!
Find passion even in the midst of responsibility.
Watch for the passionate moment in the midst of what seems mundane.
Find time to taste your passions in smaller doses until life opens new opportunities.
Enjoy planning for the next phase of life where you will be able adjust your priorities and live out those passions more fully.
[reminder]What is your passion? Has life allowed you to explore it?[/reminder]
——————————————————————
There is still time to register for our Launch Conference .  Another way to take the first steps toward living out your passions.  Check the benefits here.