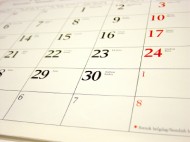 Several years ago I backed out of my garage and screeched to a stop in the middle of the road. I didn't have my Day-timer.  (Yep! that's how long ago it was) Without that calendar I was paralyzed.
As I sat fretting over how I could go on living, I realized I had planned the life right out of my life. The people I loved and the God who loves me couldn't get an appointment.
It all starts with doling out chunks of life to those little blank calendar spaces. Nature abhors a vacuum, including blank calendar squares. We fill those squares with chores to be done, people to contact, phone calls to make, errands to run and projects to finish. We become walking To-Do lists.
We plan so much "To Do" that we don't have time "To Be."
I doubt Adam and Eve had a daily planner in paradise. Hmmm. I wonder what it would have looked like if they did.
7:00 A.M. to 8:00 A.M.—Breakfast: honey-covered radishes.
8:00 A.M. to 10:00 A.M.—Name the big animals.
10:00 A.M. to 11:30 A.M.—Name the tiny plants.
11:30 A.M. to 12:00 P.M.—Check on the "Forbidden Fruit Tree."
12:00 P.M. to 1:00 P.M.—Eat power lunch: "Fresh fruit."
1:00 P.M. to 3:00 P.M.—Sew fig leaves.
3:00 P.M. to 5:00 P.M.—Look for a good place to hide.
5:00 P.M. to 7:00 P.M.—Boss stops by for a chat.
7:00 P.M. to ETERNITY—Recover from power lunch.
Part of the penalty for the "fresh fruit power-lunch" debacle was the loss of peace and freedom that existed before. Worry and rush and To Do lists entered the world.  From that moment on there would be…
pain in childbirth,
jealousy,
hatred,
snakes
and calendars with little squares.
Scheduling important things in life is essential.  But don't  miss the most important appointment: time to live.
Time to walk hand in hand.
Time to exercise.
Time to lie on your back and watch the clouds morph into monsters and angels and things that exist only in the minds of dreamers.
Time to talk to the people you love.
Time to write about the stirrings of your heart.
Time to visit with those people across the street you've never met.
Time to pray
God had a plan, but his plan was about more than achievement. It was about relationships. My job requires a hunk of my time for doing. My challenge is to find time in the midst of it all—just for being.
Do you long to BE?
How do YOU find time for it?
I am working on an idea of how to manage our life so we can live. I will title it, "To be or not to be."  I will share it in a later post.
——————————
This post is adapted from a story in my book "Lighten up"  available here.
If you have not yet read Fully Alive, it addresses this issue in depth.