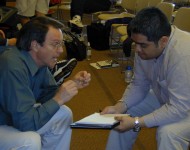 If you want to start or advance your career as a gifted communicator/entertainer, NOW is the time and YOU are the one who can make it happen.
I receive so many e-mails from people who keep putting this decision off until NEXT YEAR. Have you debated whether this is a good time to invest in your own career by attending "The Summit?" Let me give you some straight answers on why I believe NOW is the time.  If you have any questions or need assistance you can call my assistant Joy at 303-325-6964 and receive personal assistance to make attending The Summit a reality.
Here are four reasons to join us at The Summit THIS YEAR!
1.  This year the *Master Summit package offers a rare opportunity to learn from the best presenters ever.
Michael Hyatt, CEO of Thomas Nelson, of one of the largest book publishers in the world will be sharing the secrets on how write a winning book proposal.
Randy Elrod and Spence Smith, founders of "Lifework 2.0" will be giving a powerful presentation on "How to optimize social media to advance your career."
Robert Smith – exclusive manager and agent for internationally known speaker – Andy Andrews, will talk about the strategies he used to help build Andy's amazing career.
McNair Wilson, former Disney Imagineer, will do a presentation "Recapturing your Creative Spirit"  that will serve as an inspiration for years to come.  This is a life changer.
Ken Davis, that's me, and Danny de Armas , my guru and first manager, will open the book on the principles that enabled me to develop a career that has spanned over 30 years.
2. In this economy the best investment you can make is in yourself
Your investment in the future of your own career will yield a better return than most of wall street.  I lost another huge chunk of my investments in the stock market last year. I have tightened my spending in many areas, but this year I am choosing to invest in what God has always called me to do.
3. I guarantee it. If you apply what you learn at The Summit, you will see your investment returned many times over. The testimonial on this page is one of dozens we have received over the years. I am so confident in the power of "The Summit" that if before you leave, you decide that the information you received had no value, I will personally refund your tuition.
4. *Free stuff
This year each participant of the *Master Summit will receive a pile of free stuff.
Free Michael Hyatt paper on How to write a winning proposal.
Free unedited CD of The Summit
Free Secrets of dynamic communication book
Free Package of Ken Davis' most recent Comedy presentations
Free help line for personal response to help you as you advance
Generous Discounts to the next Dynamic Communicators Workshop
And the biggest reason I encourage you to act now is……
5.  Next year never comes……  except on my birthday!!!!!!
Register today or call Joy at 303-325-6964. 

*The Basic Summit has not changed and will give you everything you need to get started however we have added the "Master Summit" with lots of additional information and benefits.  Some speakers, services and free materials are only available to those who sign up for the Master Summit.  See details HERE.
I look forward to seeing you at "The Summit"