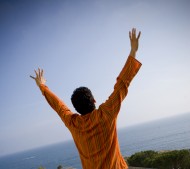 This true story appears in my book Fully Alive and has been an inspiration to me for years. 
Dave Veerman, a vice president with The Livingstone Corporation in Chicago, once lived in Covington, Louisiana. He'd been training for a marathon run across the world's longest bridge over water, a twenty-four-mile structure spanning Lake Pontchartrain. Dave thought he was in good shape, but on the day of the race a strong wind blowing directly in the face of the runners put his endurance to the test.

Fifteen miles into the marathon, Dave was exhausted. Every part of his body hurt. His will to continue was eroding. To make matters worse, women pushing baby carriages were passing him like he was standing still. He felt as if he'd had a blowout in both tennis shoes, but he stumbled on. Every step was a major effort.
Dave lost track of time and distance until finally he began to hear the cheers of the crowd at the finish line. He knew he was close. Then he saw his family and he saw the camcorder in his wife's hands. "Suddenly," Dave said, "I felt that rush of adrenaline. I couldn't let my family see me finish weakly. With only about a hundred yards to go, I straightened up, shrugged off my exhaustion and sprinted the rest of the way to the finish line."
After Dave had rested, he and his family sat down at home to watch the video.Dave watched himself stagger into view. The video revealed the exact moment he looked up and realized he was being filmed. He watched himself experience that shot of adrenaline, take a deep  breath and then……  continue stumbling toward the finish line with exactly the same shuffling gait. In his spirit he was sprinting like a young gazelle to the finish line. In reality he looked like an old man making his way to the bathroom at midnight in a pair of loose slippers.
I laughed when Dave told me that story over 25 years ago. But I see the story differently now. Today I would shake Dave's hand and congratulate him. He did not finish weakly, he finished well.
Helicopters covering the race had captured images of dozens who had given up. Runners who had sprinted to the front early were strung out along the course waiting for a ride.
When people gather to celebrate my life, they might not praise my style or pace but I hope they will be encouraged that I never gave up. That I finished well.
Let the slim mothers pushing baby carriages pass if they wish.  Let the flat abs flash past me. I will run at my pace fully alive. Even if I shuffle, crawl, or have friends carry me, I  refuse to give up until I cross the finish line.
I refuse to sit on the sidelines.
I will not lose sight of the goal that has driven me to run since my first memories.
I've asked my friends to hold me to my promise. One of those friends, Bob Schueman, gave me a coin I carry with me.  The coin is imprinted with these words, "Be encouraged. Finish well."  Let me pass that coin to you.
Run the race of life!
Refuse to sit on the sidelines!
Don't be discouraged by headwinds!
Don't compare yourself to others!
Surround yourself with friends who will cheer you on!
Run at your pace!
Run with joy!
Be encouraged! Finish well!
[reminder]What has your race been like?[/reminder]