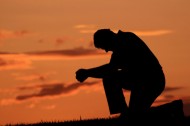 When was the last time you cleared your mind of the daily fretting, planning, and conniving that clutters your life. Our frenzied pace and the unrelenting grind of our brain often keeps us from some of the best moments of life. Important moments that bring, peace, insight, inspiration and revelation.
Who doesn't long for moments like that? But like a whisper in hurricane those life changing benefits can't be experienced until the storm passes.
It is in the quiet moments of meditation that some of the most meaningful revelations can penetrate to our soul. It is those moments that we can hear the voice of God. It is then that we can experience the kind of peace that restores our soul and clears our mind. These moments are the foundation of creative thinking, personal and spiritual growth.
Unfortunately for most of us those moments are rare or non existent. Our unrelenting brain and hectic schedules stop only when our body or mind collapses. We end up mentally depressed and physically ill.
That doesn't have to be.
Here are three steps I have taken that are helping to calm the storm in my life and allowed me to rediscover the lost discipline of meditation.
1. Find the right place
A place to meditate is significant: It may be a special chair, a quiet room, a bench, a pool side lounger or a garden. For each person it is different but we should find a quiet place where we will not be interrupted and make it sacred.
When I am at home, my place is a sun room that looks out on the forest. When I travel, I have to be more creative. In hotels its the comfortable chair in my room. On a plane, it can be any seat I happen to be in. Ear plugs or noise canceling headsets can change almost any environment into a private place of meditation. Sometimes I choose to meditate while I run or walk.
2. Find the right time.
Busy moms sometimes choose a time right after the kids go to school or to bed. Many people choose the morning hours before anyone is stirring.
This is the hardest discipline for me. I am not an early riser. Everyone on earth is stirring when I get up! Even bears are done hibernating when I get up! Too often I start working the minute I rise and miss out on those moments that would give me the wisdom and strength to face the day.
The Bible says "be still and know that I am God." He chooses the quiet moments to speak into our life. Don't miss that opportunity. Choose a time and stick to it. Then if events of the day make you miss it, reschedule on the spot, put it on the calendar as an appointment. That is exactly what it is.
3. Find right Attitude
It is so important to come to these moments unburdened by thoughts about what you need to do or worries about the circumstances of life. As a follower of Christ I have to leave all of that behind and just ask God to talk with me, to show me how I can be the loving, person I know he wants me to be. To remind me of all the things I have to be thankful for.
If you come from a non faith background or one different from mine, these quiet moments will still bring benefit to your life and if you approach with an open clear mind it might even change your perspective on who God is. Be Still…… see what happens and let me know.
Do you take time to meditate?
Do you need too?
What is your story?
Blessed is the man who does not walk in the counsel of the wicked or stand in the way of sinners or sit in the seat of mockers. But his delight is in the law of the Lord, and on his law he meditates day and night. He is like a tree planted by streams of water, which yields its fruit in season and whose leaf does not wither. Whatever he does prospers. Psalms 1:1-3