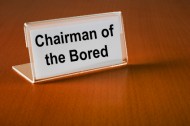 Before I knew him, I would see Matt jogging along highway 96 as I drove into town.  On my return trip he would still be running.  He reminded me of how much I hate young people.
At the time I didn't know that Matt would fall in love with a friend of our family named Lauren.  Nor could I guess that I would officiate at their wedding and Matt and Lauren would become invaluable members of our team.
Someone asked me, "What titles did you give them?"  Titles? I don't even know what my title is.
LOL of productions? 
Air Head One? 
Chuckle Chairman? 
However we were quick to come up with titles for Matt and Lauren. They are titles that all of us should have as part of our life resume.
Matt's title is "Director of Solutions." Here are the attributes that make Matt a Director of Solutions, a valuable member of our team and a delightful person to be around.
a.  Matt sees problems as a puzzle to be solved rather than a roadblock to success.  He tackles problems in the same way I approach a crossword puzzle or Sudoku game.  Matt spells the word "Problem" like this.  "o-p-p-o-r-t-u-n-i-t-y"  That attitude is infectious.
b.  Matt anticipates problems and heads them off before they materialize.  It is one thing to be able to complete a list of tasks.  It is an amazing talent to be able toenvision possible problems and create your own list of tasks to solve them before they materialize.
c.  Matt hunts, and solves problems outside the scope of his job description.  You will never hear the words.  "That's somebody else's problem" come from Matt's mouth.
Strive to be a director of solutions and you will make yourself invaluable to your family your friends and the people you work for.
Lauren's Title is:  "Director of great Experiences."
These are the special gifts Lauren brings to the Ken Davis team.
a.  She has attitude!  She makes each one of us on the team feel like we are her favorite person.  We all know that Matt is her favorite person, but her attitude brightens the entire office experience.
b. She doesn't know any clients or buyers or fans. To Lauren they are all friends. Whether someone is calling our office for information, or registering for one of our conferences, their first experience is with Lauren a woman who models excellence, kindness and enthusiasm.
c.  Lauren is an artist!  She is a graduate of the O'more College of Design. Her artistic fingerprints are on everything we do.  Lauren knows what looks good and insists that we maximize the visual and social experience for everything we produce.
In a world that is quick to settle for anything that works, Lauren helps us move from good to great.
As I wrote this post I asked myself these questions:
What is my attitude toward problems?  Am I a director of solutions or a gloomy grumbler?
What experiences do I create for people?  I think I am pretty good at this from the stage, but how about when I am forced to rebook a flight?  How often do I think about the experience others will have instead of mulling over what will this be like for me.
Based on your skills and attitude, what would your title be?  Are you a director of solutions?   Are you a creator of great experiences?  How have these kinds of people affected your life?  
 I love these kids and don't know what I would do without them.  SO don't even think about trying to hire them away from us or you will have a PROBLEM difficult to solve and an EXPERIENCE  you will not soon forget.  (-;