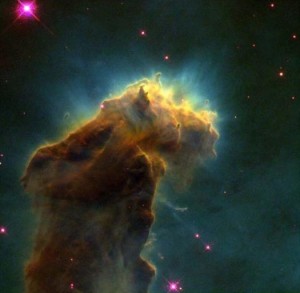 Watercooler Wednesday. Today is the day. Sometime today the doctor will induce my daughter to begin the process of giving birth to Tyler Scheer. I can't show you a picture yet. He's not here yet.
The picture to the left IS NOT him. But I can tell you that Tyler looks a little like God. He was made in the image of perfect love. What originality, what creativity, what art, what love.
Picture taken from the Hubble Telescope. Clouds accompanying the birth of a star! M16
The world waits for you little one. May God bring you safely to us.