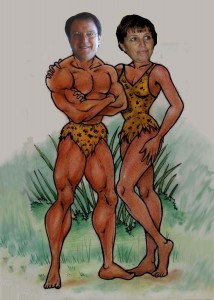 I am seriously trying to get in the best shape of my life. When I am exercising regularly and eating right I feel great. As motivation to keep at it, I am training for a Triathlon. Not like one of those "Iron man" things you see on television. This is more like "aluminum man" or "Styrofoam man." In this one I run to the bathroom, fill the tub, get in, pull the plug and fight the current. Then I take out my bike, pump up the tires and go to bed.
Actually the swim is about 300 yards, the biking is about 9 miles and the run is a little over two miles. The funeral will follow immediately with fun and food for all.
God gave us one body, I have learned that I pay a dear price when I don't take care of it. I may not end up looking like a stud but I am going to be a feisty little bundle of wrinkles.
1st Corinthians 6:19
"Do you not know that your body is a temple of the Holy Spirit, who is in you, whom you have received from God? Keep the house strong.