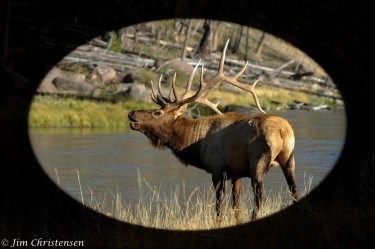 My cousin, Jim Christensen, is a gifted photographer who takes some of the most beautiful wildlife photos I've seen. What's so amazing about that?
Jim is partially disabled and can only walk for a short distance without support.  Most of his photos, including the one you see here, are taken from his van. I asked him how that was possible.
He graciously offered to share some of his pictures and his secrets. 
1.   Never travel without a camera.
At minimum I keep a high quality phone camera in my pocket at all times. Whenever I leave home there's a Canon SX50HS ( about $400.00) in my van.
And when I am really serious, specifically setting out to look for subjects, I will bring a DSLR with a 150-500 zoom lens. (More about why this kind of zoom is important for me later.)
2.   Be aware of your surroundings.           
Slow down and look!
We live and drive so fast we don't see the potential pictures all around us.  Train yourself to "Frame" pictures out of whatever landscape you are looking at.
   Go to a park or a parking lot, stop the vehicle and study the surroundings. There are photographs everywhere.
   Don't forget your back yard! There are insects, birds, flowers, kids and grandkids. All photos waiting to be taken without leaving home.
3.   Don't feel that you have to pack gear "up over the mountain." to be a photographer.       
All of the the pictures you see here where taken from the driver's seat of my van!  The pictures in my portfolio were taken either in my van or a few steps from it.
I am partially disabled and can walk only a short distance before I need support. So I have spent a hours in my van photographing everything from large mammals to tiny insects, all from my Chrysler "blind".  That's one reason the 150 – 500 zoom lens is important to me.
4.   Don't be afraid to experiment.          
If you are not a seasoned photographer, learning all about your camera is as easy as going to the internet. It is even worth it to take a class. But you will learn the most by experimenting.  Remember, you can't break your camera by trying new things.
Taking photographs is like cooking, you need a certain amount of heat for a certain period of time to cook a dish.  In photography, you need a certain amount of light for a certain period of time, to get a good picture. Try taking pictures well done, medium rare and rare.  How cool it would be to end up with a rare picture.
Today's digital cameras allow us to take lots of pictures and sort out the good ones. They also have an "auto" setting that allows you to just point and shoot.
5.  So do it!  
Keep a pointer with you at all times! (That would be a camera.)
Open your eyes to photos waiting to be taken.
Start in your own neighborhood.
Experiment.  It doesn't cost you a thing and you can't hurt anything!
Shoot!!!
Look at the results you can get!   (The captions under the pictures are mine)
I welcome your comments. What secrets do you have for getting great photos? [reminder]
Remember these are copyrighted photos.  Please ask permission before using them.