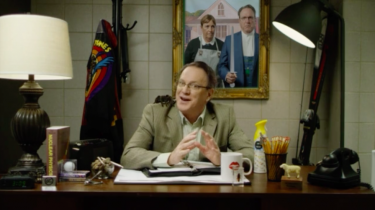 I spoke these words at a staff meeting. "I want to do a contest for my most faithful fans and give the winner…

A trip to Nashville, 
Dinner at a nice restaurant with Diane and me, 
A night at the Opryland Hotel, and  
A treasure chest of every product I have ever developed.
"I want to make the contest mysterious and outrageously fun" I exclaimed. My team sat stunned. Finally someone said, "Are you out of your mind?" 
Yes!
If you have followed me for years, or if you just want the fun of a challenge, here's how you can gain a chance to win all of above and give us the privilege of enjoying an evening with you!
With the purchase of our new DVD*, Ken Davis Unearthed, and the completion of the following steps, you will automatically be entered to win:
Watch Ken Davis Unearthed carefully. Planted throughout the DVD are clues to past routines I have done, stories I have told, and jokes I have used throughout the years.
Spot as many clues as you can. Match each one to the appropriate piece of material in past routines.
Reference the story, comedy bit, or joke the clue is connected to – you don't have to name the specific DVD. You may even be able to spot something we missed! Example: The spider on my shoulder relates to a comedy bit I did on how much I hate spiders. The comedy bit it correlates with is "If I have a chainsaw in one hand and a spider on the other…. the hand is going to go!"
With the purchase of the DVD: Forward your order confirmation via email along with your list of matches, name and telephone number to [email protected].
Without the purchase of the DVD: Mail your list of matches along with your name, and telephone number to Ken Davis Productions, 105 SE Pkwy, Ste 107, Franklin, TN 37064.
Click here to read the full terms and conditions.
The person who can spot the most clues and match them to the right stories will win the contest outright. Should there be a tie a name will be drawn to determine the winner.
The contest will end at 12:00am Central Time on December 31st and the winner will be announced in January. Dates for the trip will be coordinated with the winner and me, Ken Davis. I will then coordinate with the CEO of the universe, my wife Diane.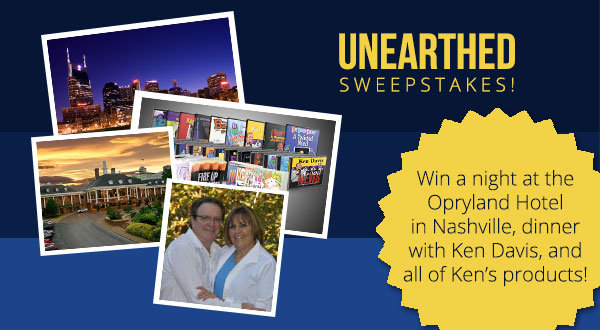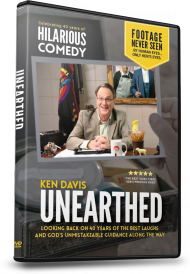 ---
*No purchase necessary to enter or to win. Click here to read the full terms and conditions. *Contest winner must live within the continental US.